---

Volume 66
Part 10
Page o2481
October 2010
Received 24 July 2010
Accepted 20 August 2010
Online 4 September 2010
Key indicators
Single-crystal X-ray study
T = 295 K
Mean

(C-C) = 0.004 Å
R = 0.037
wR = 0.094
Data-to-parameter ratio = 14.9
Details

N-Ethyl-6-ethylamino-4-oxo-1,3,5-triazin-2-aminium chloride (Oxysimazine·HCl)

In the title molecular salt, C7H14N5O+·Cl- (the HCl salt of the oxo derivative of the triazine herbicide simazine), the cation and anion are linked by N-H

Cl hydrogen bonds. The chloride ion is also involved in a close electrostatic interaction with an inversion-related triazine ring [Cl

centroid distance = 3.201 (1) Å]. A

-

interaction having a centroid

centroid distance of 3.456 (2) Å exists between pairs of rings via another inversion relation. The triazine ring and adjacent non-H atoms are essentially planar (r.m.s. deviation = 0.042 Å), while both methyl groups are approximately perpendicular and on the same side of the plane [torsion angles = 79.3 (3) and -84.6 (3)°]. Upon exposure to X-rays for about two days, the color of the title compound changed from colorless to a pale yellow-orange with no apparent affect on the structure as evidenced by no significant change in the intensities of the standard reflections.
Related literature
The structure determinations of twoherbicides have been reported (Black & Baughman, 2010

; Baughman & Yu, 1988

and references cited therein) as has information on the mode of action of this class of herbicides (Roberts, 1998

). For the Gaussian calculation, see: Frisch et al. (2009

).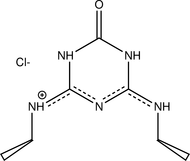 Experimental
Data collection: XSCANS (Bruker, 1996

); cell refinement: XSCANS; data reduction: XSCANS; program(s) used to solve structure: SHELXS86 (Sheldrick, 2008

); program(s) used to refine structure: SHELXL97 (Sheldrick, 2008

); molecular graphics: SHELXTL/PC (Sheldrick, 2008

); software used to prepare material for publication: SHELXTL/PC and SHELXL97.
---
Supplementary data and figures for this paper are available from the IUCr electronic archives (Reference: FL2312 ).
---
Acknowledgements
This material is based upon work supported by the National Science Foundation under grant No. DUE-0431664. The authors thank Eric V. Patterson for the quantum calculations.
Baughman, R. G. & Yu, P.-J. (1988). J. Agric. Food Chem. 36, 1294-1296.




Black, H. M. & Baughman, R. G. (2010). Acta Cryst. E66, o2221.



Bruker (1996). XSCANS. Bruker AXS Inc., Madison, Wisconsin, USA.
Bruker (1999). XSHELL. Bruker AXS Inc., Madison, Wisconsin, USA.
Frisch, M. J., et al. (2009). GAUSSIAN09. Gaussian Inc., Wallingsford, Connecticut, USA.
Roberts, T. R. (1998). Editor. Metabolic Pathways of Agrochemicals, Part 1. Cambridge, England: RSC Publishing.
Sheldrick, G. M. (2008). Acta Cryst. A64, 112-122.