---

Volume 66
Part 10
Page m1184
October 2010
Received 17 August 2010
Accepted 26 August 2010
Online 4 September 2010
Key indicators
Single-crystal X-ray study
T = 200 K
Mean

(C-C) = 0.008 Å
R = 0.068
wR = 0.149
Data-to-parameter ratio = 17.9
Details

Acetato(N-[(E)-1-(6-methyl-2-pyridyl)methylidene]-2-{2-[(E)-1-(6-methyl-2-pyridyl)methylideneamino]phenethyl}aniline)nickel(II) perchlorate

aDepartment of Chemistry, Kyungpook National University, Daegu, 702-701, Republic of Korea, and bKorea Basic Science Institute, 664-14 Dukjin dong 1-ga, Dukjin-gu, Jeonju, 561-756, Republic of Korea
Correspondence e-mail: leehi@knu.ac.kr
In the title complex, [Ni(CH3COO)(C28H26N4)]ClO4, the NiII atom is coordinated by two imine N atoms and two pyridine N atoms of the N-[(E)-1-(6-methyl-2-pyridyl)methylidene]-2-(2-[(E)-1-(6-methyl-2-pyridyl)methylideneamino]phenethyl)aniline donor ligand and two O atoms of the acetate ion in a distorted octahedral coordination. The average Ni-N and Ni-O bond lengths are 2.131 (13) and 2.098 (11) Å, respectively. An intramolecular N-H

O interaction occurs. Relatively weak intermolecular C-H

O interactions between the ligands and the ClO4- ions result in a chain extending along the b axis.
Related literature
For structures of Ni complexes with ligands formed by the condensation of 2-pyridyl aldehydes and a variety of diamines, see: Banerjee et al. (2004

). For comparison Ni-N bond distances, see: Martin et al. (1977

).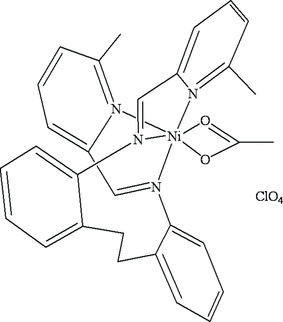 Experimental
Data collection: SMART (Bruker, 2000

); cell refinement: SAINT (Bruker, 2000

); data reduction: SAINT; program(s) used to solve structure: SHELXS97 (Sheldrick, 2008

); program(s) used to refine structure: SHELXL97 (Sheldrick, 2008

); molecular graphics: SHELXTL (Sheldrick, 2008

); software used to prepare material for publication: SHELXTL.
---
Supplementary data and figures for this paper are available from the IUCr electronic archives (Reference: PV2321 ).
---
Acknowledgements
This work was supported by a Korea Research Foundation Grant funded by the Korean Government (KRF-2008-313-C00433).
Banerjee, S., Gangopadhyay, J., Lu, C.-Z., Chen, J.-T. & Ghosh, A. (2004). Eur. J. Inorg. Chem. pp. 2533-2541.



Bruker (2000). SMART and SAINT. Bruker AXS Inc., Madison, Wisconsin, USA.
Martin, L. Y., Sperati, C. R. & Busch, D. H. (1977). J. Am. Chem. Soc. 99, 2968-2981.




Sheldrick, G. M. (2008). Acta Cryst. A64, 112-122.