Related literature
The crystal structure of the anhydrous form of the title dinuclear complex has been reported by Thich et al. (1976

). For related structures, see: Aghabozorg et al. (2008

); Eshtiagh-Hosseini et al. (2010

).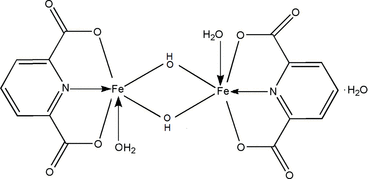 Experimental
Data collection: CrystalClear (Rigaku, 2001

); cell refinement: DENZO/SCALEPACK (Otwinowski & Minor, 1997

); data reduction: DENZO/SCALEPACK; method used to solve structure: charge flipping (Oszlányi & Süto, 2004

) implemented in PLATON (Spek, 2009

); program(s) used to refine structure: SHELXL97 (Sheldrick, 2008

); molecular graphics: ORTEPII (Johnson, 1976

) and PLATON; software used to prepare material for publication: SHELXL97.
---
Supplementary data and figures for this paper are available from the IUCr electronic archives (Reference: CV2763 ).
---
Financial support as well as provision of X-ray facilities from the Ferdowsi University of Mashhad and Purdue University, W. Lafayette, are gratefully acknowledged by the authors.
Aghabozorg, H., Manteghi, F. & Sheshmani, S. (2008). J. Iran. Chem. Soc. 5, 184-227.


Eshtiagh-Hosseini, H., Yousefi, Z., Safiee, M. & Mirzaei, M. (2010). J. Coord. Chem. 63, 3187-3197.




Johnson, C. K. (1976). ORTEP. Report ORNL-5138. Oak Ridge National Laboratory, Tennessee, USA.
Oszlányi, G. & Süto, A. (2004). Acta Cryst. A60, 134-141.



Otwinowski, Z. & Minor, W. (1997). Methods in Enzymology, Vol. 276, Macromolecular Crystallography, Part A, edited by C. W. Carter Jr & R. M. Sweet, pp. 307-326. New York: Academic Press.
Rigaku (2001). CrystalClear. Rigaku Corporation, Tokyo, Japan.
Sheldrick, G. M. (2008). Acta Cryst. A64, 112-122.



Spek, A. L. (2009). Acta Cryst. D65, 148-155.




Thich, J. A., Ou, C. C., Powers, D., Vasiliou, B., Mastropaolo, D., Potenza, J. A. & Schugar, H. J. (1976). J. Am. Chem. Soc. 98, 1425-1433.