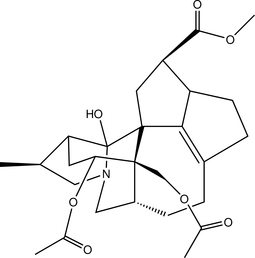 Acta Cryst. (2010). E66, o3013 [ doi:10.1107/S1600536810041188 ]
Yuzurimine from of Daphniphyllum macropodum Miq.
Abstract: The title compound, C27H37NO7, is a Daphniphyllum alkaloid isolated from a branch of Daphniphyllum macropodum Miq. All of the five-membered rings adopt envelope conformations while the six- and seven-membered ring adopt chair conformations. Classical intermolecular O-H

O and weak C-H

N hydrogen bonds are present in the crystal structure.
Online 31 October 2010
---
Copyright © International Union of Crystallography
IUCr Webmaster