---

Volume 67
Part 1
Page m108
January 2011
Received 13 December 2010
Accepted 15 December 2010
Online 24 December 2010
Key indicators
Single-crystal X-ray study
T = 100 K
Mean

(C-C) = 0.003 Å
R = 0.025
wR = 0.058
Data-to-parameter ratio = 14.9
Details

Aqua{2-morpholino-N-[1-(2-pyridyl)ethylidene]ethanamine-3N,N',N''}bis(thiocyanato-N)nickel(II)

In the title compound, [Ni(NCS)2(C13H19N3O)(H2O)], the NiII ion is six-coordinated by the N,N',N''-tridentate Schiff base, the N atoms of two thiocyanate ligands and one water O atom in a distorted octahedral geometry. Intramolecular C-H

N and C-H

O hydrogen bonds occur. In the crystal, O-H

S, O-H

O and C-H

S hydrogen bonds link adjacent molecules into layers parallel to the ac plane.
Related literature
For the structure of the Cu(II) complex with the Schiff base and thiocyanate, see: Suleiman Gwaram et al. (2011

). For the structures of related Ni(II) complexes, see: Chiumia et al. (1999

); Zhao et al. (2008

).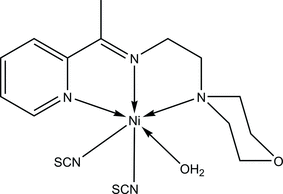 Experimental
Data collection: APEX2 (Bruker, 2007

); cell refinement: SAINT (Bruker, 2007

); data reduction: SAINT; program(s) used to solve structure: SHELXS97 (Sheldrick, 2008

); program(s) used to refine structure: SHELXL97 (Sheldrick, 2008

); molecular graphics: X-SEED (Barbour, 2001

); software used to prepare material for publication: SHELXL97 and publCIF (Westrip, 2010

).
---
Supplementary data and figures for this paper are available from the IUCr electronic archives (Reference: IS2646 ).
---
The authors thank the University of Malaya for funding this study (FRGS grant FP004/2010B).
Barbour, L. J. (2001). J. Supramol. Chem. 1, 189-191.



Bruker (2007). APEX2 and SAINT. Bruker AXS Inc., Madison, Wisconsin, USA.
Chiumia, G. C., Craig, D. C., Phillips, D. J., Rae, A. D. & Zafar Kaifi, F. M. (1999). Inorg. Chim. Acta, 285, 297-300.



Sheldrick, G. M. (1996). SADABS. University of Göttingen, Germany.
Sheldrick, G. M. (2008). Acta Cryst. A64, 112-122.



Suleiman Gwaram, N., Ikmal Hisham, N. A., Khaledi, H. & Mohd Ali, H. (2011). Acta Cryst. E67, m58.



Westrip, S. P. (2010). J. Appl. Cryst. 43, 920-925.





Zhao, K., Yin, X.-H., Lin, C.-W., Meng, D.-X. & Wu, F. (2008). Acta Cryst. E64, m84-m85.