---

Volume 67
Part 1
Page o82
January 2011
Received 2 November 2010
Accepted 3 December 2010
Online 11 December 2010
Key indicators
Single-crystal X-ray study
T = 273 K
Mean

(C-C) = 0.003 Å
Disorder in main residue
R = 0.051
wR = 0.147
Data-to-parameter ratio = 15.0
Details

2-Azaniumyl-4-(ethylcarbamoyl)butanoate: the zwitterionic form of the amino acid theanine

In the title zwitterion, C7H14N2O3, the ethylamino and the 5-oxo groups are positionally disordered with occupancy ratios of 0.50:0.50 and 0.70:0.30, respectively. The terminal ethyl -CH3 group undergoes considerable thermal motion. In the crystal, molecules are linked via N-H

O hydrogen bonds, forming a two-dimensional arrangement propagating in the bc plane.
Related literature
For details of the physiological activity of the amino acid theanine, commonly found in certain teas, see: Li et al. (2006

).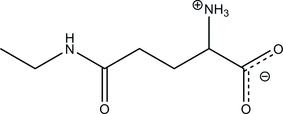 Experimental
Data collection: SMART (Bruker, 2007

); cell refinement: SAINT (Bruker, 2007

); data reduction: SAINT; program(s) used to solve structure: SHELXS97 (Sheldrick, 2008

); program(s) used to refine structure: SHELXL97 (Sheldrick, 2008

); molecular graphics: PLATON (Spek, 2009

); software used to prepare material for publication: SHELXTL (Sheldrick, 2008

).
---
Supplementary data and figures for this paper are available from the IUCr electronic archives (Reference: SU2225 ).
---
Acknowledgements
This project was sponsored by the Doctoral Research Foundation of ShanDong University of Technology, People's Republic of China.
---
Acta Cryst (2011). E67, o82 [ doi:10.1107/S1600536810050701 ]