---

Volume 67
Part 3
Page m343
March 2011
Received 23 January 2011
Accepted 9 February 2011
Online 16 February 2011
Key indicators
Single-crystal X-ray study
T = 100 K
Mean

(C-C) = 0.002 Å
R = 0.020
wR = 0.053
Data-to-parameter ratio = 27.4
Details

Bis[4-(dimethylamino)pyridinium] tetrachloridozincate
aLaboratoire de Chimie des Matériaux, Faculté des Sciences de Bizerte, 7021 Zarzouna, Tunisia,bLaboratoire C2P2 (Equipe COMS), Ecole Superieure de Chimie Physique, Electronique, Villeurbanne, France, and cYoungstown State University, Department of Chemistry, One University Plaza, Youngstown, Ohio 44555-3663, USA
Correspondence e-mail: cherif_bennasr@yahoo.fr
In the title compound, (C7H11N2)2[ZnCl4], [ZnCl4]2- anions and 4-(dimethylamino)pyridinium cations are held together by various intermolecular interactions including Coulombic attraction, hydrogen bonding and

-

stacking interactions. Three Cl atoms of the [ZnCl4]2- tetrahedron act as acceptors in N-H

Cl hydrogen bonds. The hydrogen bonds, both of which are bifurcated, lead to the formation of a three-dimensional network. Within the network, intermolecular

-

stacking interactions with a centroid-centroid distance of 3.5911 (7) Å arrange the 4-(dimethylamino)pyridinium cations into antiparallel dimers.
Related literature
For common applications of organic-inorganic hybrid materials, see: Kobel & Hanack (1986

); Pierpont & Jung (1994

); Huskins & Robson (1990

). For related structures and discussion of geometrical features, see: Albrecht et al. (2003

); El Glaoui et al. (2008

).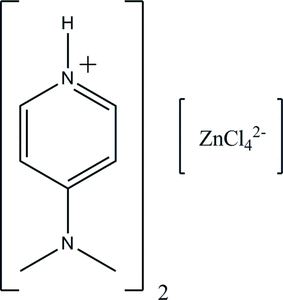 Experimental
Data collection: APEX2 (Bruker, 2009

); cell refinement: SAINT (Bruker, 2009

); data reduction: SAINT; program(s) used to solve structure: SHELXTL (Sheldrick, 2008

); program(s) used to refine structure: SHELXTL; molecular graphics: SHELXTL; software used to prepare material for publication: SHELXTL.
---
Supplementary data and figures for this paper are available from the IUCr electronic archives (Reference: RK2262 ).
---
We would like to acknowledge the support provided by the Secretary of State for Scientific Research and Technology of Tunisia. The diffractometer was funded by NSF grant 0087210, by Ohio Board of Regents grant CAP-491 and by YSU.
Albrecht, A. S., Landee, C. P. & Turnbull, M. M. (2003). J. Chem. Crystallogr. 33, 269-276.





Bruker (2009). APEX2, SAINT and SADABS. Bruker AXS Inc, Madison, Wisconsin, USA.
El Glaoui, M., Smirani, W., Lefebvre, F., Rzaigui, M. & Ben Nasr, C. (2008). Can. J. Anal. Sci. Spectrosc. 25, 103-107.
Huskins, B. F. & Robson, R. (1990). J. Am. Chem. Soc. 112, 1546-1554.
Kobel, W. & Hanack, M. (1986). Inorg. Chem. 25, 103-107.




Pierpont, C. G. & Jung, O. (1994). J. Am. Chem. Soc. 116, 2229-2230.
Sheldrick, G. M. (2008). Acta Cryst. A64, 112-122.