---

Volume 67
Part 3
Page o695
March 2011
Received 14 February 2011
Accepted 17 February 2011
Online 23 February 2011
Key indicators
Single-crystal X-ray study
T = 100 K
Mean

(C-C) = 0.004 Å
Disorder in main residue
R = 0.062
wR = 0.158
Data-to-parameter ratio = 13.1
Details

3-(5-Phenyl-4-phenylsulfonyl-1-p-tolyl-1H-pyrazol-3-yl)-1,2-dihydroquinoxaline
aDepartment of Pharmaceutical Chemistry, College of Pharmacy, King Saud University, Riyadh 11451, Saudi Arabia, and bDepartment of Chemistry, University of Malaya, 50603 Kuala Lumpur, Malaysia
Correspondence e-mail: seikweng@um.edu.my
In the crystal structure of the title compound, C30H24N4O2S, the dihydroquinoxaline fused-ring system is disordered over three orientations in a 0.358 (2):0.318 (3):0.324 (3) ratio; the mean planes of the non-H atoms of the disorder components are aligned at 4.0 (3), 11.8 (4) and 41.7 (2)° with respect to the pyrazole ring. The rings of the phenyl and tolyl substituents are aligned at 64.0 (1) and 43.7 (1)° with respect to the pyrazole ring. Weak intermolecular C-H

O hydrogen bonding links the molecules, forming supramolecular chains running along the a axis.
Related literature
For background to the biological properties of aryl-substituted pyrazoles, see: Abdel-Aziz et al. (2010

).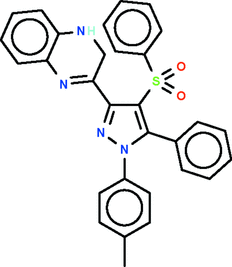 Experimental
Data collection: CrysAlis PRO (Agilent, 2010

); cell refinement: CrysAlis PRO; data reduction: CrysAlis PRO; program(s) used to solve structure: SHELXS97 (Sheldrick, 2008

); program(s) used to refine structure: SHELXL97 (Sheldrick, 2008

); molecular graphics: X-SEED (Barbour, 2001

); software used to prepare material for publication: publCIF (Westrip, 2010

).
---
Supplementary data and figures for this paper are available from the IUCr electronic archives (Reference: XU5163 ).
---
Acknowledgements
We thank King Saud University and the University of Malaya for supporting this study.
Abdel-Aziz, H. A., El-Zahabi, H. S. A. & Dawood, K. M. (2010). Eur. J. Med. Chem. 45, 2427-2432.




Agilent (2010). CrysAlis PRO. Agilent Technologies, Yarnton, England.
Barbour, L. J. (2001). J. Supramol. Chem. 1, 189-191.



Sheldrick, G. M. (2008). Acta Cryst. A64, 112-122.



Westrip, S. P. (2010). J. Appl. Cryst. 43, 920-925.