---

Volume 67
Part 4
Page o880
April 2011
Received 4 March 2011
Accepted 9 March 2011
Online 15 March 2011
Key indicators
Single-crystal X-ray study
T = 296 K
Mean

(C-C) = 0.002 Å
R = 0.037
wR = 0.105
Data-to-parameter ratio = 18.1
Details

(E)-4-{[2-(2-Furylcarbonyl)hydrazinylidene]methyl}-2-methoxyphenyl acetate

The molecule of the title Schiff base compound, C15H14N2O5, was obtained from a condensation reaction of 4-acetoxy-3-methoxybenzaldehyde and 2-furylcarbonylhydrazide. In the molecule, the furyl ring makes a dihedral angle of 14.63 (10)° with the benzene ring. In the crystal, intermolecular N-H

O hydrogen bonds link the molecules into chains along the b axis. Futhermore, weak C-H

O interactions connect the chains, forming corrugated layers parallel to (001). The dihedral angle between the rings is 14.63 (10)°.
Related literature
Several phenylhydrazone derivatives have been shown to be potentially DNA-damaging and are mutagenic agents, see: Okabe et al. (1993

). For bond lengths and angles in other hydrazone derivatives, see: Bakir & Gyles (2003

); Baughman et al. (2004

); Ohba (1996

); Yao & Jing (2007

).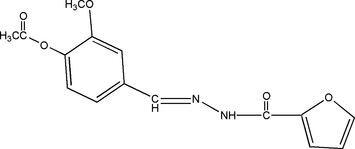 Experimental
Data collection: SMART (Bruker, 1998

); cell refinement: SAINT (Bruker, 1998

); data reduction: SAINT; program(s) used to solve structure: SHELXTL (Sheldrick, 2008

); program(s) used to refine structure: SHELXTL; molecular graphics: XP in SHELXTL, ORTEPIII (Burnett & Johnson, 1996

) and PLATON (Spek, 2009

); software used to prepare material for publication: SHELXTL.
---
Supplementary data and figures for this paper are available from the IUCr electronic archives (Reference: DN2664 ).
---
Bakir, M. & Gyles, C. (2003). J. Mol. Struct. 649, 133-135.




Baughman, R. G., Martin, K. L., Singh, R. K. & Stoffer, J. O. (2004). Acta Cryst. C60, o103-o106.




Bruker (1998). SMART, SAINT and SADABS. Bruker AXS Inc., Madison, Wisconsin, USA.
Burnett, M. N. & Johnson, C. K. (1996). ORTEPIII. Report ORNL-6895. Oak Ridge National Laboratory, Tennessee, USA.
Ohba, S. (1996). Acta Cryst. C52, 2118-2119.



Okabe, N., Nakamura, T. & Fukuda, H. (1993). Acta Cryst. C49, 1678-1680.



Sheldrick, G. M. (2008). Acta Cryst. A64, 112-122.



Spek, A. L. (2009). Acta Cryst. D65, 148-155.




Yao, X.-L. & Jing, Z.-L. (2007). Acta Cryst. E63, o3900.