Related literature
For applications of related compounds, see: Kurzak et al. (1999

). For the coordination spheres of copper in related compounds, see: Hathaway (1973

). For hydrogen-bond motifs, see: Bernstein et al. (1995

); Etter et al. (1990

).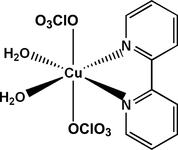 Experimental
Data collection: CrysAlis CCD (Oxford Diffraction, 2008

); cell refinement: CrysAlis CCD; data reduction: CrysAlis CCD; program(s) used to solve structure: SIR2002 (Burla et al., 2003

); program(s) used to refine structure: SHELXL97 (Sheldrick, 2008

); molecular graphics: ORTEP-3 for Windows (Farrugia, 1997

) and DIAMOND (Brandenburg & Berndt, 2001

); software used to prepare material for publication: WinGX (Farrugia, 1999

).
---
Supplementary data and figures for this paper are available from the IUCr electronic archives (Reference: BQ2292 ).
---
This work was supported by the Unité de Recherche de Chimie de l'Environnement et Moléculaire Structurale, CHEMS, Université Mentouri-Constantine, Algeria and the Laboratoire de Chimie de Coordination, Toulouse, France. Thanks are due to the MESRS (Ministére de l'Enseignement Supérieur et de la Recherche Scientifique - Algérie) for financial support.
Bernstein, J., Davis, R. E., Shimoni, L. & Chang, N.-L. (1995). Angew. Chem. Int. Ed. Engl. 34, 1555-1573.




Brandenburg, K. & Berndt, M. (2001). DIAMOND. Crystal Impact, Bonn, Germany.
Burla, M. C., Caliandro, R., Camalli, M., Carrozzini, B., Cascarano, G. L., De Caro, L., Giacovazzo, C., Polidori, G. & Spagna, R. (2005). J. Appl. Cryst. 38, 381-388.





Etter, M. C., MacDonald, J. C. & Bernstein, J. (1990). Acta Cryst. B46, 256-262.




Farrugia, L. J. (1997). J. Appl. Cryst. 30, 565.



Farrugia, L. J. (1999). J. Appl. Cryst. 32, 837-838.




Hathaway, B. J. (1973). Struct. Bonding (Berlin), 14, 49-69.



Kurzak, K., Kuzniarska-Biernacka, I. & Zurowska, B. (1999). J. Solution Chem. 28, 133-151.



Oxford Diffraction (2008). CrysAlis CCD and CrysAlis RED. Oxford Diffraction, Wroclaw, Poland.
Sheldrick, G. M. (2008). Acta Cryst. A64, 112-122.