---

Volume 67
Part 8
Pages m1031-m1032
August 2011
Received 10 May 2011
Accepted 29 June 2011
Online 6 July 2011
Key indicators
Single-crystal X-ray study
T = 296 K
Mean

(C-C) = 0.003 Å
R = 0.031
wR = 0.100
Data-to-parameter ratio = 15.5
Details

Poly[[-1,4-bis(1H-imidazol-4-yl)benzene-2N3:N3'](-5-methylisophthalato-2O1:O3)cobalt(II)]

In the title coordination polymer, [Co(C9H6O4)(C12H10N4)]n, the CoII atom is four-coordinated by two O atoms from two different 5-methylisophthalate bivalent anions and two N atoms from two different 1,4-bis(1H-imidazol-4-yl)benzene ligands, forming a four-coordinated tetrahedral coordination geometry. Each 5-methylisophthalate ligand acts as a

2-bridge, linking two CoII atoms and forming chains which are further linked by 1,4-bis(1H-imidazol-4-yl)benzene ligands into a two-dimensional network parallel to (

01). These planes are, in turn, linked by two intermolecular N-H

O interactions, forming a three-dimensional structure. Weak C-H

O hydrogen bonds are also present in the structure.
Related literature
For background to mixed inorganic-organic hybrid materials, see: Kitagawa & Kondo (1998

). For examples with mixed organic and N-containing ligands, see: Liu et al. (2007

); Chen et al. (2010

).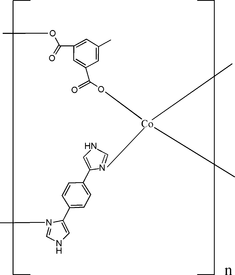 Experimental
Data collection: APEX2 (Bruker, 2003

); cell refinement: SAINT (Bruker, 2003

); data reduction: SAINT; program(s) used to solve structure: SHELXS97 (Sheldrick, 2008

); program(s) used to refine structure: SHELXL97 (Sheldrick, 2008

); molecular graphics: SHELXTL (Sheldrick, 2008

); software used to prepare material for publication: SHELXTL.
---
Supplementary data and figures for this paper are available from the IUCr electronic archives (Reference: BG2404 ).
---
This work was supported by the Natural Science Foundation of Anhui Provincial Education Commission (Nos. KJ2011B128 and KJ2009A047Z).
Bruker (2003). APEX2 and SAINT. Bruker AXS Inc., Madison, Wisconsin, USA.
Chen, S. S., Fan, J., Okamura, T.-A. & Chen, M. S. (2010). Cryst. Growth Des. 10, 812-822.



Kitagawa, S. & Kondo, M. (1998). Bull. Chem. Soc. Jpn, 71, 1739-1753.




Liu, Y. Y., Ma, J. F., Yang, J. & Su, Z. M. (2007). Inorg. Chem. 46, 3027-3037.






Sheldrick, G. M. (1996). SADABS. University of Göttingen, Germany.
Sheldrick, G. M. (2008). Acta Cryst. A64, 112-122.