Related literature
For background to the acetylation of amines, see: Greene & Wuts (1999

); Moore et al. (1940

); Suyama & Gerwick (2006

). For a related structure, see: Loureiro et al. (2008

). For further synthetic information, see: Augustine et al. (2011

); Sollogoub et al. (2002

).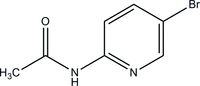 Experimental
Data collection: APEX2 (Bruker, 2009

); cell refinement: SAINT (Bruker, 2009

); data reduction: SAINT; program(s) used to solve structure: SHELXTL (Sheldrick, 2008

); program(s) used to refine structure: SHELXTL; molecular graphics: SHELXTL; software used to prepare material for publication: SHELXTL and PLATON (Spek, 2009

).
---
Supplementary data and figures for this paper are available from the IUCr electronic archives (Reference: HB5933 ).
---
HKF and TSH thank Universiti Sains Malaysia (USM) for the Research University Grant (1001/PFIZIK/811160). TSH also thanks USM for the award of a research fellowship. AMI thanks Professor Sandeep Sanchethi, Director, National Institute of Technology-Karnataka, India, for his encouragement, and also the Defence Research and Development Organization, Government of India, for financial support.
Augustine, J. K., Kumar, R., Bombrun, A. & Mandal, A. B. (2011). Tetrahedron Lett. 52, 1074-1077.



Bruker (2009). APEX2, SAINT and SADABS. Bruker AXS Inc., Madison, Wisconsin, USA.
Greene, T. W. & Wuts, P. G. M. (1999). Protective Groups in Organic Chemistry, 3rd ed., ch. 7, pp. 552-555. New York: Wiley and Sons.
Loureiro, R. M. S., Johnstone, R. A. W. & Labat, G. (2008). Acta Cryst. C64, o306-o308.




Moore, M. L., Miller, C. S. & Miller, E. (1940). J. Am. Chem. Soc. 62, 2097-2099.



Sheldrick, G. M. (2008). Acta Cryst. A64, 112-122.



Sollogoub, M., Fox, K. R., Powers, V. E. C. & Brown, T. (2002). Tetrahedron Lett. 43, 3121-3123.


Spek, A. L. (2009). Acta Cryst. D65, 148-155.




Suyama, T. L. & Gerwick, W. H. (2006). Org. Lett. 8, 4541-4543.