---

Volume 67
Part 8
Page o2139
August 2011
Received 19 July 2011
Accepted 20 July 2011
Online 23 July 2011
Key indicators
Single-crystal X-ray study
T = 298 K
Mean

(C-C) = 0.004 Å
R = 0.060
wR = 0.169
Data-to-parameter ratio = 16.7
Details

(E)-N'-[4-(Dimethylamino)benzylidene]-4-methylbenzohydrazide methanol monosolvate

In the title compound, C17H19N3O·CH3OH, the hydrazone molecule exists in a trans geometry with respect to the methylidene unit and the dihedral angle between the two substituted benzene rings is 42.6 (2)°. In the crystal, the components are linked through N-H

O and O-H

O hydrogen bonds, forming [100] chains of alternating hydrazone and methanol molecules.
Related literature
For the hydrazone compounds reported by one of the authors recently and background refereences, see: Liu (2010a

,b

).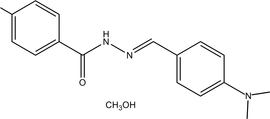 Experimental
Data collection: SMART (Bruker, 1998

); cell refinement: SAINT (Bruker, 1998

); data reduction: SAINT; program(s) used to solve structure: SHELXS97 (Sheldrick, 2008

); program(s) used to refine structure: SHELXL97 (Sheldrick, 2008

); molecular graphics: SHELXTL (Sheldrick, 2008

); software used to prepare material for publication: SHELXTL.
---
Supplementary data and figures for this paper are available from the IUCr electronic archives (Reference: HB6324 ).
---
Acknowledgements
The work was supported by the Ten Hundred Thousand Project of the Bureau of Education of Guangdong Province, People's Republic of China.
---
Acta Cryst (2011). E67, o2139 [ doi:10.1107/S1600536811029394 ]