---

Volume 67
Part 8
Page m1056
August 2011
Received 15 June 2011
Accepted 5 July 2011
Online 9 July 2011
Key indicators
Single-crystal X-ray study
T = 298 K
Mean

(C-C) = 0.009 Å
R = 0.047
wR = 0.096
Data-to-parameter ratio = 25.5
Details

Bis(4-methylmorpholin-4-ium) tetrabromidozincate(II)

aDepartment of Chemical & Environmental Engineering, Anyang Institute of Technology, Anyang 455000, People's Republic of China, and bAnyang Administration of Work Safety, Anyang 455000, People's Republic of China
Correspondence e-mail: ayitpch@yahoo.com.cn
The title compound, (C5H12NO)2[ZnBr4], was synthesized by hydrothermal reaction of ZnBr2 with 4-methylmorpholine in a HBr/distilled water solution. Each of the two independent cations exhibits a chair conformation; the anion deviates slightly from an tetrahedral configuration. The Zn-Br distances in the anion are in the range of 2.3996 (9)-2.4247 (9) Å. All of the amine H atoms are involved in bifurcated intermolecular N-H

Br hydrogen bonds, building up a trimer.
Related literature
For the preparation of amino coordination compounds, see: Fu et al. (2009

); Aminabhavi et al. (1986

).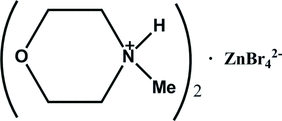 Experimental
Data collection: CrystalClear (Rigaku, 2005

); cell refinement: CrystalClear; data reduction: CrystalClear; program(s) used to solve structure: SHELXS97 (Sheldrick, 2008

); program(s) used to refine structure: SHELXL97 (Sheldrick, 2008

); molecular graphics: SHELXTL (Sheldrick, 2008

); software used to prepare material for publication: SHELXTL.
---
Supplementary data and figures for this paper are available from the IUCr electronic archives (Reference: RU2007 ).
---
Acknowledgements
This work was supported by the start-up fund of Anyang Institute of Technology.
---
Acta Cryst (2011). E67, m1056 [ doi:10.1107/S1600536811026766 ]