---

Volume 67
Part 9
Page o2409
September 2011
Received 5 August 2011
Accepted 19 August 2011
Online 27 August 2011
Key indicators
Single-crystal X-ray study
T = 296 K
Mean

(C-C) = 0.002 Å
R = 0.045
wR = 0.136
Data-to-parameter ratio = 22.7
Details

(2,6-Difluorophenyl)(4-methylpiperidin-1-yl)methanone

aSchool of Pharmaceutical Sciences, Universiti Sains Malaysia, 11800 USM, Penang, Malaysia,bSchool of Chemical Sciences, Universiti Sains Malaysia, 11800 USM, Penang, Malaysia, and cX-ray Crystallography Unit, School of Physics, Universiti Sains Malaysia, 11800 USM, Penang, Malaysia
Correspondence e-mail: hkfun@usm.my
In the title compound, C13H15F2NO, the piperidine ring adopts a chair conformation. The dihedral angle between the least-squares plane of the piperidine ring and the benzene ring is 48.75 (7)°. In the crystal structure, the molecules are connected via C-H

O hydrogen bonds, forming a zigzag chain along the b axis.
Related literature
For the biological applications of piperidine derivatives, see: Waelbroeck et al. (1992

); El Hadri et al. (1995

). For puckering parameters, see: Cremer & Pople (1975

).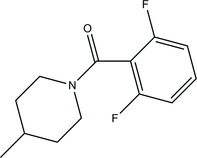 Experimental
Data collection: APEX2 (Bruker, 2009

); cell refinement: SAINT (Bruker, 2009

); data reduction: SAINT; program(s) used to solve structure: SHELXTL (Sheldrick, 2008

); program(s) used to refine structure: SHELXTL; molecular graphics: SHELXTL; software used to prepare material for publication: SHELXTL and PLATON (Spek, 2009

).
---
Supplementary data and figures for this paper are available from the IUCr electronic archives (Reference: IS2763 ).
---
Acknowledgements
NM gratefully acknowledges funding from the Malaysian Ministry of Science, Technology and Innovation, through the Malaysian Institute of Pharmaceutical and Nutraceutical R&D Initiative Grant (grant Nos. 09-05-IFN-MEB 004 and 304/PFARMASI/650512/I121). HKF and MH thank the Malaysian Government and USM for the Research University Grant (No. 1001/PFIZIK/811160). MH also thanks USM for a post-doctoral research fellowship.
Bruker (2009). APEX2, SAINT and SADABS. Bruker AXS Inc., Madison, Wisconsin, USA.
Cremer, D. & Pople, J. A. (1975). J. Am. Chem. Soc. 97, 1354-1358.




El Hadri, A., Maldivi, P., Leclerc, G. & Rocher, J.-P. (1995). Bioorg. Med. Chem. 3, 1183-1201.




Sheldrick, G. M. (2008). Acta Cryst. A64, 112-122.



Spek, A. L. (2009). Acta Cryst. D65, 148-155.




Waelbroeck, M., Camus, J., Tastenoy, M. & Christophe, J. (1992). Br. J. Pharmacol. 105, 97-102.