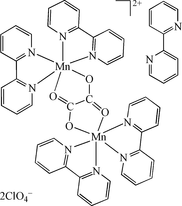 Acta Cryst. (2011). E67, m1443-m1444 [ doi:10.1107/S1600536811038475 ]
-Oxalato-bis[bis(2,2'-bipyridine)manganese(II)] bis(perchlorate) 2,2'-bipyridine solvate
Abstract: The unit cell of the title compound, [Mn2(C2O4)(C10H8N2)4](ClO4)2·C10H8N2, consists of a binuclear cation, two perchlorate anions, and one solvent 2,2'-bipyridine (bpy) molecule. In the complex cation [Mn2(C2O4)(C10N2H8)4]2+, two MnII atoms are bridged by a bis(bidentate) oxalate ligand, each MnII atom being further coordinated by two bpy ligands in a distorted octahedral geometry. The distance between the two six-coordinated metal atoms is 5.583 (1) Å.

-

stacking interactions [interplanar distances between bpy rings = 3.739 (1) Å] are essential to the supramolecular assembly. There are extensive interionic C-H

O interactions between the cations and between the cation and anion. Three of the four perchlorate O atoms are disordered over two sets of sites with occupancy ratios of 0.852 (6):0.148 (6).
Online 30 September 2011
---
Copyright © International Union of Crystallography
IUCr Webmaster