---

Volume 67
Part 10
Page o2558
October 2011
Received 16 August 2011
Accepted 26 August 2011
Online 3 September 2011
Key indicators
Single-crystal X-ray study
T = 200 K
Mean

(C-C) = 0.015 Å
R = 0.053
wR = 0.132
Data-to-parameter ratio = 17.4
Details

2,2'-Bipyrimidine-1,1'-diium bis(triiodide)-2,2'-bipyrimidine-water (1/2/2)

In the crystal of the title compound, C8H8N42+·2I3-·2C8H6N4·2H2O, inversion centres are located at the centroids of the central C-C bonds of the cation and the bpym molecules, as well as at the central I atoms of both anions. Intermolecular O-H

N and N-H

O hydrogen bonds are observed in the crystal structure.
Related literature
For related structures, see: Fialho De Assis et al. (1996

); Kochel (2005

). For the synthesis and crystal structure of [Mn(C8H6N4)3](I3)2·CH3NO2, see: Ha (2011

).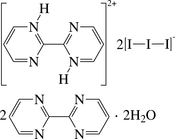 Experimental
Data collection: SMART (Bruker, 2000

); cell refinement: SAINT (Bruker, 2000

); data reduction: SAINT; program(s) used to solve structure: SHELXS97 (Sheldrick, 2008

); program(s) used to refine structure: SHELXL97 (Sheldrick, 2008

); molecular graphics: ORTEP-3 (Farrugia, 1997

) and PLATON (Spek, 2009

); software used to prepare material for publication: SHELXL97.
---
Supplementary data and figures for this paper are available from the IUCr electronic archives (Reference: IM2310 ).
---
Acknowledgements
This work was supported by the Priority Research Centers Program through the National Research Foundation of Korea (NRF) funded by the Ministry of Education, Science and Technology (2010-0029626).
Bruker (2000). SADABS, SMART and SAINT. Bruker AXS Inc., Madison, Wisconsin, USA.
Farrugia, L. J. (1997). J. Appl. Cryst. 30, 565.



Fialho De Assis, E., Howie, R. A. & Wardell, J. L. (1996). Acta Cryst. C52, 955-957.



Ha, K. (2011). Z. Kristallogr. New Cryst. Struct. 226, 365-367.
Kochel, A. (2005). Acta Cryst. E61, m759-m760.




Sheldrick, G. M. (2008). Acta Cryst. A64, 112-122.



Spek, A. L. (2009). Acta Cryst. D65, 148-155.