Related literature
Cryptands have been utilized as hosts to form supramolecular assemblies, see: Balzani et al. (2000

). Crown ether-based cryptands can form more stable supramolecular complexes with paraquat, paraquat derivatives, diquat and secondary ammonium salts than the corresponding simple crown ethers by virtue of multiple non-covalent interactions, see: Huang et al. (2005

). The title compound was obtained by the reaction of bis(5-aminomethyl-1,3-phenylene)-26-crown-8 (Wester & Voegtle, 1980

) with pyridine-3,5-dicarbonyl dichloride (Chen et al., 2010

).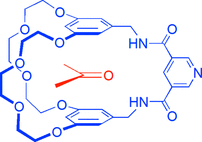 Experimental
Data collection: APEX2 (Bruker, 2008

); cell refinement: SAINT (Bruker, 2008

); data reduction: SAINT; program(s) used to solve structure: SHELXS97 (Sheldrick, 2008

); program(s) used to refine structure: SHELXL97 (Sheldrick, 2008

); molecular graphics: SHELXTL (Sheldrick, 2008

); software used to prepare material for publication: SHELXTL.
---
Supplementary data and figures for this paper are available from the IUCr electronic archives (Reference: AA2033 ).
---
The authors gratefully acknowledge the support of the National Natural Science Foundation of China (Nos. 21072066 and 20672038) and the Natural Science Foundation of Guangdong Province of China (No. 8151063101000015).
Balzani, V., Credi, A., Raymo, F. M. & Stoddart, J. F. (2000). Angew. Chem. Int. Ed. 39, 3348-3391.



Bruker (2008). APEX2 and SAINT. Bruker AXS Inc., Madison, Wisconsin, USA.
Chen, M. J., Han, S. J., Jiang, L. S., Zhou, S. G., Jiang, F., Xu, Z. K., Liang, J. D. & Zhang, S. H. (2010). Chem. Commun., 46, 3932-3934.




Huang, F. H., Zakharov, L. N., Rheingold, A. L., Ashraf-Khorassani, M. & Gibson, H. W. (2005). J. Org. Chem. 70, 809-813.





Sheldrick, G. M. (1996). SADABS. University of Göttingen, Germany.
Sheldrick, G. M. (2008). Acta Cryst. A64, 112-122.



Wester, N. & Voegtle, F. (1980). Chem. Ber. 113, 1487-1493.