---

Volume 68
Part 1
Page o153
January 2012
Received 9 December 2011
Accepted 13 December 2011
Online 17 December 2011
Key indicators
Single-crystal X-ray study
T = 100 K
Mean

(C-C) = 0.004 Å
R = 0.048
wR = 0.141
Data-to-parameter ratio = 17.0
Details

4-(Furan-2-ylmethoxy)benzene-1,2-dicarbonitrile

In the title compound, C13H8N2O2, prepared from furfuryl alcohol and 4-nitrophthalonitrile in the presence of potassium carbonate in dimethylformamide, the furan and benzene rings are oriented at a dihedral angle of 53.45 (9)°. In the crystal, weak C-H

O and C-H

N hydrogen bonds link the molecules into a three-dimensional network.
Related literature
For the use of phthalonitriles in the preparation of symmetrically and unsymmetrically substituted phthalocyanine complexes, see: Leznoff & Lever (1996

). For the fundamental optical and electronic properties of phthalocyanines and their applications, see: McKeown (1998

). For bond-length data, see: Allen et al. (1987

).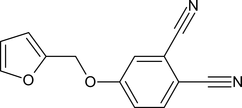 Experimental
Data collection: APEX2 (Bruker, 2007

); cell refinement: SAINT (Bruker, 2007

); data reduction: SAINT; program(s) used to solve structure: SHELXS97 (Sheldrick, 2008

); program(s) used to refine structure: SHELXL97 (Sheldrick, 2008

); molecular graphics: ORTEP-3 for Windows (Farrugia, 1997

); software used to prepare material for publication: WinGX (Farrugia, 1999

) and PLATON (Spek, 2009

).
---
Supplementary data and figures for this paper are available from the IUCr electronic archives (Reference: BQ2327 ).
---
Acknowledgements
The authors are indebted to Anadolu University and the Medicinal Plants and Medicine Research Centre of Anadolu University, Eskisehir, Turkey, for the use of the diffractometer.
Allen, F. H., Kennard, O., Watson, D. G., Brammer, L., Orpen, A. G. & Taylor, R. (1987). J. Chem. Soc. Perkin Trans. 2, pp. S1-19.
Bruker (2007). APEX2, SAINT and SADABS. Bruker AXS Inc., Madison, Wisconsin, USA.
Farrugia, L. J. (1997). J. Appl. Cryst. 30, 565.



Farrugia, L. J. (1999). J. Appl. Cryst. 32, 837-838.




Leznoff, C. C. & Lever, A. B. P. (1996). Editors. Phthalocyanines: Properties and Applications, Vols. 1-4. Weinheim: VHC.
McKeown, N. B. (1998). Phthalocyanine Materials: Synthesis, Structure and Function. Cambridge University Press.
Sheldrick, G. M. (2008). Acta Cryst. A64, 112-122.



Spek, A. L. (2009). Acta Cryst. D65, 148-155.