---

Volume 68
Part 1
Page m1
January 2012
Received 25 November 2011
Accepted 25 November 2011
Online 3 December 2011
Key indicators
Single-crystal X-ray study
T = 200 K
Mean

(C-C) = 0.006 Å
R = 0.027
wR = 0.064
Data-to-parameter ratio = 20.1
Details

cis-Bis(2,2'-bipyrimidine-2N1,N1')diiodidomanganese(II)

The asymmetric unit of the title complex, [MnI2(C8H6N4)2], contains one half of a neutral MnII complex, with the entire molecule completed by the application of twofold symmetry. The MnII ion is six-coordinated in a distorted octahedral environment defined by four N atoms of the two chelating 2,2'-bipyrimidine (bpym) ligands and two I- anions in a cis-N4I2 coordination geometry. The dihedral angle between the least-squares planes of the two bpym ligands (r.m.s deviation for all non-H atoms = 0.063 Å) is 85.04 (6)°. In the crystal, complex molecules are connected by C-H

N and C-H

I hydrogen bonds, forming a three-dimensional network. Molecules are stacked in columns along the a axis. Along the c axis, successive molecules stack in the opposite directions.
Related literature
For related crystal structures of [MnI(bpym)2(H2O)]I·xH2O (x = 2, 1), see: Ha (2011a

,b

).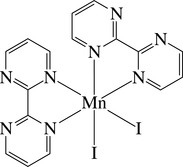 Experimental
Data collection: SMART (Bruker, 2000

); cell refinement: SAINT (Bruker, 2000

); data reduction: SAINT; program(s) used to solve structure: SHELXS97 (Sheldrick, 2008

); program(s) used to refine structure: SHELXL97 (Sheldrick, 2008

); molecular graphics: ORTEP-3 (Farrugia, 1997

) and PLATON (Spek, 2009

); software used to prepare material for publication: SHELXL97.
---
Supplementary data and figures for this paper are available from the IUCr electronic archives (Reference: BT5729 ).
---
Acknowledgements
This work was supported by the Priority Research Centers Program through the National Research Foundation of Korea (NRF) funded by the Ministry of Education, Science and Technology (2010-0029626).
Bruker (2000). SADABS, SMART and SAINT. Bruker AXS Inc., Madison, Wisconsin, USA.
Farrugia, L. J. (1997). J. Appl. Cryst. 30, 565.



Ha, K. (2011a). Acta Cryst. E67, m1414.




Ha, K. (2011b). Acta Cryst. E67, m1453.




Sheldrick, G. M. (2008). Acta Cryst. A64, 112-122.



Spek, A. L. (2009). Acta Cryst. D65, 148-155.