---

Volume 68
Part 1
Page o185
January 2012
Received 5 November 2011
Accepted 15 December 2011
Online 21 December 2011
Key indicators
Single-crystal X-ray study
T = 293 K
Mean

(C-C) = 0.003 Å
R = 0.052
wR = 0.131
Data-to-parameter ratio = 18.2
Details

4-Methylanilinium perchlorate 18-crown-6 clathrate

In the title compound, C7H10N+·ClO4-·C12H24O6, the 4-methylanilinium cation interacts with an 18-crown-6 molecule forming a rotator-stator-like structure through bifurcated N-H

(O,O) hydrogen bonds between the ammonium group of the cation and the O atoms of the crown ether molecule. All three components of the structure possess mirror symmetry. The benzene ring is inclined to the mean plane of the crown ether molecule by 86.84 (8)°.
Related literature
The crystal structure of related 4-methylanilinium tetrafluoroborate 18-crown-6 clathrate has been reported by Ge & Zhao (2010

).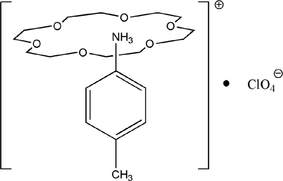 Experimental
Data collection: CrystalClear (Rigaku, 2005

); cell refinement: CrystalClear; data reduction: CrystalClear; program(s) used to solve structure: SHELXS97 (Sheldrick, 2008

); program(s) used to refine structure: SHELXL97 (Sheldrick, 2008

); molecular graphics: SHELXTL (Sheldrick, 2008

); software used to prepare material for publication: SHELXTL.
---
Supplementary data and figures for this paper are available from the IUCr electronic archives (Reference: CV5196 ).
---
Acknowledgements
The author thanks the SEU research start-up capital of new teachers for support.
---
Acta Cryst (2012). E68, o185 [ doi:10.1107/S1600536811053992 ]