Related literature
For the biological activity of isochromanones, see: Bianchi et al., (2004

); Buntin et al. (2008

). For

-

stacking interactions, see: Janiak (2000

). For hydrogen-bond motifs, see: Bernstein et al. (1995

). For ring puckering parameters, see: Cremer & Pople (1975

).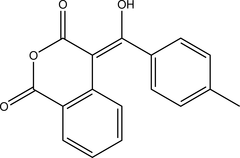 Experimental
Data collection: COLLECT (Hooft, 1998

); cell refinement: DENZO/SCALEPACK (Otwinowski & Minor, 1997

); data reduction: DENZO/SCALEPACK; program(s) used to solve structure: SIR2004 (Burla et al., 2005

); program(s) used to refine structure: SHELXL97 (Sheldrick, 2008

); molecular graphics: PLATON (Spek, 2009

); software used to prepare material for publication: SHELXL97, publCIF (Westrip, 2010

) and WinGX (Farrugia, 1999

).
---
Supplementary data and figures for this paper are available from the IUCr electronic archives (Reference: FJ2488 ).
---
We thank the Laboratoire de Physique des Interactions Ioniques et Spectropôle, Université de Provence, and Université Paul Cézanne, Faculté des Sciences et Techniques de Saint Jérôme, Marseille, France, for the use of their diffractometer.
Bernstein, J., Davis, R. E., Shimoni, L. & Chang, N.-L. (1995). Angew. Chem. Int. Ed. Engl. 34, 1555-1573.




Bianchi, D. A., Blanco, N. E., Carrillo, N. & Kaufnam, T. S. (2004). J. Agric. Food Chem. 52, 1923-1927.





Buntin, K., Rachid, S., Scharfe, M., Blöcker, H., Weissman, K. J. & Müller, R. (2008). Angew. Chem. Int. Ed. Engl. 47, 4595-4599.




Burla, M. C., Caliandro, R., Camalli, M., Carrozzini, B., Cascarano, G. L., De Caro, L., Giacovazzo, C., Polidori, G. & Spagna, R. (2005). J. Appl. Cryst. 38, 381-388.





Cremer, D. & Pople, J. (1975). J. Am. Chem. Soc. 97, 1354-1358.




Farrugia, L. J. (1999). J. Appl. Cryst. 32, 837-838.




Hooft, R. (1998). COLLECT. Nonius BV, Delft, The Netherlands.
Janiak, C. (2000). J. Chem. Soc. Dalton Trans. pp. 3885-3896.


Otwinowski, Z. & Minor, W. (1997). Methods in Enzymology, Vol. 276, Macromolecular Crystallography, Part A, edited by C. W. Carter Jr & R. M. Sweet, pp. 307-326. New York: Academic Press.
Sheldrick, G. M. (2008). Acta Cryst. A64, 112-122.



Spek, A. L. (2009). Acta Cryst. D65, 148-155.




Westrip, S. P. (2010). J. Appl. Cryst. 43, 920-925.