---

Volume 68
Part 1
Page o133
January 2012
Received 19 November 2011
Accepted 3 December 2011
Online 17 December 2011
Key indicators
Single-crystal X-ray study
T = 113 K
Mean

(C-C) = 0.002 Å
R = 0.037
wR = 0.110
Data-to-parameter ratio = 16.5
Details

Methyl 4-(5-methoxy-1H-indol-3-yl)benzoate

In the title compound, C17H15NO3, the dihedral angle between the benzene ring and the indole ring system is 22.5 (3)°. In the crystal, molecules are linked by N-H


and C-H

O interactions.
Related literature
For background to the catalysed arylation of indoles, see: Zhang et al. (2007

). For reference bond-length data, see: Allen et al. (1987

).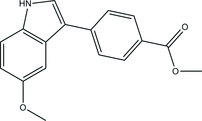 Experimental
Data collection: CrystalClear (Rigaku, 2007

); cell refinement: CrystalClear; data reduction: CrystalClear; program(s) used to solve structure: SHELXS97 (Sheldrick, 2008

); program(s) used to refine structure: SHELXL97 (Sheldrick, 2008

); molecular graphics: SHELXTL (Sheldrick, 2008

); software used to prepare material for publication: SHELXTL.
---
Supplementary data and figures for this paper are available from the IUCr electronic archives (Reference: HB6526 ).
---
Acknowledgements
This work was supported by the Natural Science Foundation of Liaoning Education Department (No. 2008 T094). We would like to thank Dr George Li, at CombiPhos Catalysts, Inc., Princeton, NJ, for helpful discussions regarding the use of POPd catalysts.
Allen, F. H., Kennard, O., Watson, D. G., Brammer, L., Orpen, A. G. & Taylor, R. (1987). J. Chem. Soc. Perkin Trans. 2, pp. S1-19.
Rigaku (2007). CrystalClear. Rigaku Corp., Tokyo, Japan.
Sheldrick, G. M. (2008). Acta Cryst. A64, 112-122.



Zhang, Z., Hu, Z., Yu, Z., Lei, P., Chi, H., Wang, Y. & He, R. (2007). Tetrahedron Lett. 48, 2415-2419.