Related literature
For a related structure and background to the properties and applications of xanthene derivatives, see: Mehdi et al. (2011

). For ring conformations, see: Cremer & Pople (1975

). For reference bond-length data, see: Allen et al. (1987

).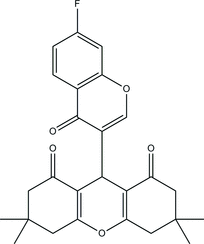 Experimental
Data collection: APEX2 (Bruker, 2009

); cell refinement: SAINT (Bruker, 2009

); data reduction: SAINT; program(s) used to solve structure: SHELXTL (Sheldrick, 2008

); program(s) used to refine structure: SHELXTL; molecular graphics: SHELXTL; software used to prepare material for publication: SHELXTL and PLATON (Spek, 2009

).
---
Supplementary data and figures for this paper are available from the IUCr electronic archives (Reference: HB6535 ).
---
The authors thank Universiti Sains Malaysia (USM) for the Research University Grants (1001/PFIZIK/811160) and (203/PKIMIA/6711179). SA thanks the Malaysian Government and USM for the Academic Staff Training Scheme (ASTS) award. MA also thanks Universiti Sains Malaysia for the award of a post-doctoral fellowship.
Allen, F. H., Kennard, O., Watson, D. G., Brammer, L., Orpen, A. G. & Taylor, R. (1987). J. Chem. Soc. Perkin Trans. 2, pp. S1-19.
Bruker (2009). SADABS, APEX2 and SAINT. Bruker AXS Inc., Madison, Wisconsin, USA.
Cremer, D. & Pople, J. A. (1975). J. Am. Chem. Soc. 97, 1354-1358.




Mehdi, S. H., Sulaiman, O., Ghalib, R. M., Yeap, C. S. & Fun, H.-K. (2011). Acta Cryst. E67, o1719-o1720.




Sheldrick, G. M. (2008). Acta Cryst. A64, 112-122.



Spek, A. L. (2009). Acta Cryst. D65, 148-155.