---

Volume 68
Part 1
Page o108
January 2012
Received 30 November 2011
Accepted 30 November 2011
Online 14 December 2011
Key indicators
Single-crystal X-ray study
T = 296 K
Mean

(C-C) = 0.002 Å
R = 0.038
wR = 0.109
Data-to-parameter ratio = 21.4
Details

2-Amino-5-chloropyrimidin-1-ium hydrogen maleate

aX-ray Crystallography Unit, School of Physics, Universiti Sains Malaysia, 11800 USM, Penang, Malaysia, and bBiomedical Structural Biology, School of Biological Sciences, Nanyang Technological University, Singapore 138673
Correspondence e-mail: hkfun@usm.my
In the title salt, C4H5ClN3+·C4H3O4-, the 2-amino-5-chloropyrimidinium cation is protonated at one of its pyrimidine N atoms. In the roughly planar (r.m.s. deviation = 0.026 Å) hydrogen malate anion, an intramolecular O-H

O hydrogen bond generates an S(7) ring. In the crystal, the protonated N atom and the 2-amino group of the cation are hydrogen bonded to the carboxylate O atoms of the anion via a pair of N-H

O hydrogen bonds, forming an R22(8) ring motif. The ion pairs are connected via further N-H

O hydrogen bonds and a short C-H

O interaction, forming layers lying parallel to the bc plane.
Related literature
For background to pyrimidine compounds, see: Glidewell et al. (2003

); Panneerselvam et al. (2004

). For details of maleic acid, see: James & Williams (1974

); Bertolasi et al. (1980

). For hydrogen-bond motifs, see: Bernstein et al. (1995

).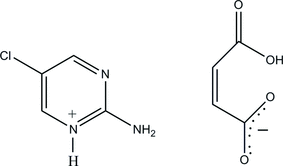 Experimental
Data collection: APEX2 (Bruker, 2009

); cell refinement: SAINT (Bruker, 2009

); data reduction: SAINT; program(s) used to solve structure: SHELXTL (Sheldrick, 2008

); program(s) used to refine structure: SHELXTL; molecular graphics: SHELXTL; software used to prepare material for publication: SHELXTL and PLATON (Spek, 2009

).
---
Supplementary data and figures for this paper are available from the IUCr electronic archives (Reference: HB6543 ).
---
HKF and MH thank the Malaysian Government and Universiti Sains Malaysia for the Research University grant No. 1001/PFIZIK/811160. MH also thanks Universiti Sains Malaysia for a post-doctoral research fellowship.
Bernstein, J., Davis, R. E., Shimoni, L. & Chang, N.-L. (1995). Angew. Chem. Int. Ed. Engl. 34, 1555-1573.




Bertolasi, V., Borea, P. A., Gilli, G. & Sacerdoti, M. (1980). Acta Cryst. B36, 2287-2291.




Bruker (2009). APEX2, SAINT and SADABS. Bruker AXS Inc., Madison, Wisconsin, USA.
Glidewell, C., Low, J. N., Melguizo, M. & Quesada, A. (2003). Acta Cryst. C59, o9-o13.




James, M. N. G. & Williams, G. J. B. (1974). Acta Cryst. B30, 1249-1257.





Panneerselvam, P., Muthiah, P. T. & Francis, S. (2004). Acta Cryst. E60, o747-o749.




Sheldrick, G. M. (2008). Acta Cryst. A64, 112-122.



Spek, A. L. (2009). Acta Cryst. D65, 148-155.