---

Volume 68
Part 1
Page o188
January 2012
Received 2 December 2011
Accepted 12 December 2011
Online 21 December 2011
Key indicators
Single-crystal X-ray study
T = 296 K
Mean

(C-C) = 0.002 Å
R = 0.030
wR = 0.088
Data-to-parameter ratio = 12.0
Details

6-Chloroquinolin-2(1H)-one

In the title compound, C9H6ClNO, the Cl atom deviates by 0.142 (1) Å from the quinoline ring mean plane (r.m.s. deviation = 0.013 Å). In the crystal, N-H

O hydrogen bonds link the molecules into [010] C(4) chains. Aromatic

-

stacking interactions [shortest centroid

centroid distance = 3.685 (3) Å] are also observed.
Related literature
For background to quinoline derivatives as pharmaceuticals, see: Luo et al. (2011

).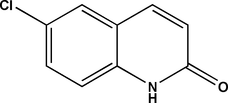 Experimental
Data collection: CrystalClear (Rigaku, 2005

); cell refinement: CrystalClear; data reduction: CrystalClear; program(s) used to solve structure: SHELXS97 (Sheldrick, 2008

); program(s) used to refine structure: SHELXL97 (Sheldrick, 2008

); molecular graphics: DIAMOND (Brandenburg & Putz, 2005

); software used to prepare material for publication: SHELXL97.
---
Supplementary data and figures for this paper are available from the IUCr electronic archives (Reference: HB6549 ).
---
Acknowledgements
We thank Southeast University for support.
---
Acta Cryst (2012). E68, o188 [ doi:10.1107/S1600536811053359 ]