---

Volume 68
Part 1
Page m9
January 2012
Received 19 November 2011
Accepted 29 November 2011
Online 3 December 2011
Key indicators
Single-crystal X-ray study
T = 293 K
Mean

(C-C) = 0.009 Å
R = 0.059
wR = 0.162
Data-to-parameter ratio = 15.8
Details

Tetrakis(1-allyl-1H-imidazole-N3)bis(thiocyanato-N)manganese(II)

aCollege of Mechanical Engineering, Qingdao Technological University, Qingdao 266033, People's Republic of China, and bKey Laboratory of Advanced Materials, Qingdao University of Science and Technology, Qingdao 266042, People's Republic of China
Correspondence e-mail: zhaojuanqd@163.com
The structure of the title compound, [Mn(NCS)2(C6H8N2)4], consists of isolated molecules of [Mn(NCS)2(Aim)4] (Aim = 1-allylimidazole), which contain a compressed octahedral MnN6 chromophore (site symmetry

). The NCS- anions are trans and four N atoms from the Aim ligands define the equatorial plane. The mean Mn-N(Aim) and Mn-N(NCS) distances are 2.270 and 2.229 Å, respectively. Weak C-H

N interactions contribute to the crystal packing stability.
Related literature
In the corresponding manganese compound [Mn(NCS)2(1-ethylimidazole)4] (Liu, et al., 2008

), the MnII ions have a distorted octahedral environment.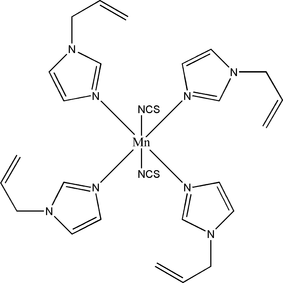 Experimental
Data collection: SMART (Bruker, 2001

); cell refinement: SAINT (Bruker, 2001

); data reduction: SAINT; program(s) used to solve structure: SHELXTL (Sheldrick, 2008

); program(s) used to refine structure: SHELXTL; molecular graphics: SHELXTL; software used to prepare material for publication: SHELXTL and local programs.
---
Supplementary data and figures for this paper are available from the IUCr electronic archives (Reference: HG5141 ).
---
Acknowledgements
This work was supported by the NSF of China (No. 20871072) and the Doctoral Science Foundation of Shandong Province (No. 2007BS04023).
---
Acta Cryst (2012). E68, m9 [ doi:10.1107/S1600536811051282 ]