---

Volume 68
Part 1
Page m83
January 2012
Received 2 December 2011
Accepted 16 December 2011
Online 23 December 2011
Key indicators
Single-crystal X-ray study
T = 298 K
Mean

(C-C) = 0.015 Å
R = 0.060
wR = 0.102
Data-to-parameter ratio = 14.7
Details

Bis(4-fluorobenzyl)bis(4-phenyl-5-sulfanylidene-4,5-dihydro-1,3,4-thiodiazole-2-thiolato)tin(IV)

In the title complex, [Sn(C7H6F)2(C8H5N2S3)2], including the weak Sn-N interactions, the SnIV atom is situated in a distorted trans-octahedral geometry, and the equatorial plane is defined by two chelating 4-phenyl-5-sulfanylidene-4,5-dihydro-1,3,4-thiodiazole-2-thiolate ligands. The apical positions are occupied by two C atoms of 4-fluorobenzyl groups.
Related literature
For related diorganotin(IV) 2-mercapto-4-methylpyrimidine derivatives, see: Ma et al. (2005

).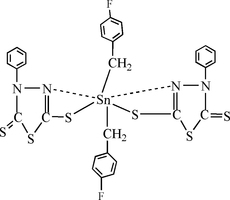 Experimental
Data collection: SMART (Siemens, 1996

); cell refinement: SAINT (Siemens, 1996

); data reduction: SAINT; program(s) used to solve structure: SHELXS97 (Sheldrick, 2008

); program(s) used to refine structure: SHELXL97 (Sheldrick, 2008

); molecular graphics: SHELXTL (Sheldrick, 2008

); software used to prepare material for publication: SHELXTL.
---
Supplementary data and figures for this paper are available from the IUCr electronic archives (Reference: HP2022 ).
---
Acknowledgements
The authors thank the State Key Laboratory of Crystal Materials (SRT11055HX2), Liaocheng University, China, and the Liaocheng University Foundation (xo9013) for financial support.
Ma, C.-L., Zhang, J.-H., Tian, G.-R. & Zhang, R.-F. (2005). J. Organomet. Chem. pp. 519-533.



Sheldrick, G. M. (1996). SADABS. University of Göttingen, Germany.
Sheldrick, G. M. (2008). Acta Cryst. A64, 112-122.



Siemens (1996). SMART and SAINT. Siemens Analytical X-ray Instruments Inc., Madison, Wisconsin, USA.