Related literature
For the biological activity of benzimidazole derivatives, see: Rao et al. (2002

); Thakurdesai et al. (2007

); Dubey & Sanyal (2010

). For related structures, see: Yoon et al. (2011

). For the ring conformation, see: Cremer & Pople (1975)

.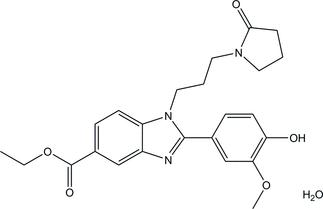 Experimental
Data collection: APEX2 (Bruker, 2009

); cell refinement: SAINT (Bruker, 2009

); data reduction: SAINT; program(s) used to solve structure: SHELXTL (Sheldrick, 2008

); program(s) used to refine structure: SHELXTL; molecular graphics: SHELXTL; software used to prepare material for publication: SHELXTL and PLATON (Spek, 2009

).
---
Supplementary data and figures for this paper are available from the IUCr electronic archives (Reference: IS5022 ).
---
The authors thank the Malaysian Government and Universiti Sains Malaysia for the Research University Grant Nos. 1001/PFIZIK/811151 and 1001/PSK/8620012. The authors also wish to express their thanks to the Pharmacogenetic and Novel Therapeutic Research, Institute for Research in Molecular Medicine, Universiti of Sains Malaysia.
Bruker (2009). APEX2, SAINT and SADABS. Bruker AXS Inc., Madison, Wisconsin, USA.
Cremer, D. & Pople, J. A. (1975). J. Am. Chem. Soc. 97, 1354-1358.




Dubey, A. K. & Sanyal, P. K. (2010). Vet Scan, 5, 63.
Rao, A., Chimirri, A., Clercq, E. D., Monforte, A. M., Monforte, P., Pannecouque, C. & Zappala, M. (2002). Farmaco, 57, 819-823.




Sheldrick, G. M. (2008). Acta Cryst. A64, 112-122.



Spek, A. L. (2009). Acta Cryst. D65, 148-155.




Thakurdesai, P. A., Wadodkar, S. G. & Chopade, C. T. (2007). Pharmacol. Online, 1, 314-329.
Yoon, Y. K., Ali, M. A., Wei, A. C., Quah, C. K. & Fun, H.-K. (2011). Acta Cryst. E67, o2405.