---

Volume 68
Part 1
Page o93
January 2012
Received 24 November 2011
Accepted 7 December 2011
Online 10 December 2011
Key indicators
Single-crystal X-ray study
T = 293 K
Mean

(C-C) = 0.009 Å
R = 0.069
wR = 0.203
Data-to-parameter ratio = 15.9
Details

2,4-Di-tert-butyl-6-[(R/S)-1-(3,5-di-tert-butyl-2-hydroxyphenyl)ethyl]phenyl [(1R,4S)-7,7-dimethyl-2-oxobicyclo[2.2.1]heptan-1-yl]methanesulfonate

aDepartment of Thoracis Surgery, The Second Hospital of Lanzhou University, Lanzhou 730000, People's Republic of China, and bDepartment of Chemistry, Lanzhou University, Lanzhou 730000, People's Republic of China
Correspondence e-mail: wujc@lzu.edu.cn
The asymmetric unit of the title compound, C40H60O5S, comprises two diastereomers related, except for the chiral camphor groups, by a pseudo-inversion centre. In both diasteromers, the camphor sulfate moiety maintained the absolute configuartion (R,S) of the precursor. However, the absolute configurations at the methine C atoms are of opposite chirality. Both molecules reveal intramolecular O-H

O hydrogen bonds, whereas van der Waals interactions define the crystal packing.
Related literature
The title compound is a potential ligand for the investigation of ring-opening polymerization of lactides. Poly(lactide) and poly(

-caprolactone) and their copolymers are the most promising biodegradable and biocompatible synthetic macromolecules. Due to the advantages of well controlled molecular weight and low polydispersity, many metal complexes have been used, see: Wu et al. (2006

).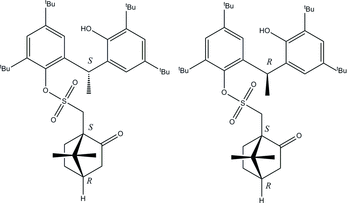 Experimental
Data collection: SMART (Bruker, 1998

); cell refinement: SAINT-Plus (Bruker, 1998

); data reduction: SAINT-Plus; program(s) used to solve structure: SHELXS97 (Sheldrick, 2008

); program(s) used to refine structure: SHELXL97 (Sheldrick, 2008

); molecular graphics: SHELXTL (Sheldrick, 2008

); software used to prepare material for publication: SHELXTL and PLATON (Spek, 2009

).
---
Supplementary data and figures for this paper are available from the IUCr electronic archives (Reference: KP2372 ).
---
Acknowledgements
We thank the National Natural Science Foundation of China (No. 21071069) and the Scientific Research Foundation for Returned Overseas Chinese Scholars, State Education Ministry, for financial support.
Bruker (1998). SAINT-Plus, SMART and SADABS. Bruker AXS Inc., Madison, Wisconsin, USA.
Flack, H. D. (1983). Acta Cryst. A39, 876-881.



Sheldrick, G. M. (2008). Acta Cryst. A64, 112-122.



Spek, A. L. (2009). Acta Cryst. D65, 148-155.




Wu, J., Yu, T.-L., Chen, C.-T. & Lin, C.-C. (2006). Coord. Chem. Rev. 250, 602-626.