Related literature
For standard bond lengths, see: Allen et al. (1987

). For graph-set analysis of hydrogen bonds, see: Bernstein et al. (1995

). For related structures, see: Choi et al. (2008

). For the biological activity and pharmacological properties of thiosemicarbazones and their metal complexes, see: Cowley et al. (2002

); Ming (2003

); Lobana et al. (2004

, 2007

).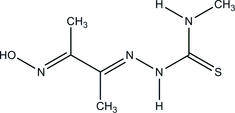 Experimental
Data collection: APEX2 (Bruker, 2005

); cell refinement: SAINT (Bruker, 2005

); data reduction: SAINT; program(s) used to solve structure: SHELXTL (Sheldrick, 2008

); program(s) used to refine structure: SHELXTL; molecular graphics: SHELXTL; software used to prepare material for publication: SHELXTL and PLATON (Spek, 2009

).
---
Supplementary data and figures for this paper are available from the IUCr electronic archives (Reference: MW2038 ).
---
The authors thank the Malaysian Government and Universiti Sains Malaysia for the RU research Grant (1001/PKIMIA/815067). NEE thanks Universiti Sains Malaysia for a post-doctoral fellowship and the International University of Africa (Sudan) for providing research leave. HAF and AQA each thank the Ministry of Higher Education and the University of Sabha (Libya) for a scholarship.
Allen, F. H., Kennard, O., Watson, D. G., Brammer, L., Orpen, A. G. & Taylor, R. (1987). J. Chem. Soc. Perkin Trans. 2, pp. S1-19.
Bernstein, J., Davis, R. E., Shimoni, L. & Chang, N.-L. (1995). Angew. Chem. Int. Ed. Engl. 34, 1555-1573.




Bruker (2005). APEX2, SAINT and SADABS. Bruker AXS Inc., Madison, Wisconsin, USA.
Choi, K.-Y., Yang, S.-M., Lee, K.-C., Ryu, H., Lee, C. H., Seo, J. & Suh, M. (2008). Transition Met. Chem. 33, 99-105.





Cowley, A. R., Dilworth, J. R., Donnelly, P. S., Labisbal, E. & Sousa, A. (2002). J. Am. Chem. Soc. 124, 5270-5271.






Lobana T. S., Rekha & Butcher, R. J. (2004). Transition Met. Chem. 29, 291-295.
Lobana T. S., Rekha, Pannu A.P.S., Hundal G., Butcher R. J. & Castineiras A. (2007). Polyhedron, 26, 2621-2628.
Ming, L.-J. (2003). Med. Res. Rev. 23, 697-762.





Sheldrick, G. M. (2008). Acta Cryst. A64, 112-122.



Spek, A. L. (2009). Acta Cryst. D65, 148-155.