---

Volume 68
Part 1
Pages m59-m60
January 2012
Received 3 November 2011
Accepted 9 December 2011
Online 17 December 2011
Key indicators
Single-crystal X-ray study
T = 188 K
Mean

(C-C) = 0.006 Å
R = 0.029
wR = 0.059
Data-to-parameter ratio = 13.2
Details

catena-Poly[zinc-tris(-dimethylcarbamato-2O:O')-zinc--(2-phenylbenzimidazolido-2N:N']

aPO Box 5800, MS 1411, Sandia National Laboratories, Albuquerque, NM 87185, USA, and bPO Box 5800, MS 1415, Sandia National Laboratories, Albuquerque, NM 87185, USA
Correspondence e-mail: marodri@sandia.gov
The crystal structure of the title compound, [Zn2(C13H9N2)(C3H6NO2)3]n, displays a long chiral chain. This is composed of zinc-dimer clusters capped by dimethylcarbamate ligands, which lie on crystallographic twofold rotation axes and are polymerically linked in one dimension by 2-phenylbenzimidadole (2-PBImi) organic ligands. The two Zn2+ ions defining the dimetal cluster are crystallographically independent, but display very similar coordination modes and tetrahedral geometry. As such, each Zn2+ ion is coordinated on one side by the N-donor imidazole linker, while the other three available coordination sites are fully occupied by the O atoms from the capping dimethylcarbamates. The chirality of the chain extends along the c axis, generating a rather long 52.470 (11) Å cell axis. Interestingly, the chiral material crystallizes from completely achiral precursors. A twofold axis and 31 screw axis serve to generate the long asymmetric unit.
Related literature
For the structure of another zinc-adeninate compound, see: An et al. (2009

). This structure, formed with adenine, contains a similar but not identical ligand as that of the 2-PBImi molecule. Interestingly, this Zn-adeninate structure also displays the presence of dimethylcarbamate, but in the case of the zinc-adeninate it is not a bridging molecule between Zn2+ cations, but is terminally tethered to the Zn2+ ions. The dimethylcarbamate capping molecules formed in situ during the synthesis; there is precedence for such in situ reactions (An et al. 2009

; Dell'Amico et al. 2003

).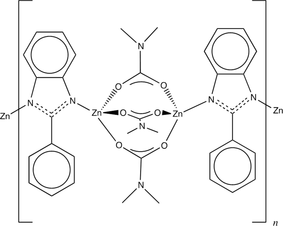 Experimental
Crystal data
[Zn2(C13H9N2)(C3H6NO2)3]

Mr = 588.23

Trigonal, P 31 21

a = 9.0521 (13) Å

c = 52.470 (11) Å

V = 3723.4 (11) Å3

Z = 6

Mo K radiation

= 1.98 mm-1

T = 188 K

0.20 × 0.19 × 0.15 mm
Refinement
R[F2 > 2(F2)] = 0.029

wR(F2) = 0.059

S = 1.09

4386 reflections

333 parameters

H-atom parameters constrained

max = 0.25 e Å-3

min = -0.24 e Å-3

Absolute structure: Flack (1983), 1754 Friedel pairs

Flack parameter: 0.011 (12)
Data collection: SMART (Bruker, 2007

); cell refinement: SAINT (Bruker, 2007

); data reduction: SAINT; program(s) used to solve structure: SHELXTL (Sheldrick, 2008

); program(s) used to refine structure: SHELXTL; molecular graphics: XSHELL (Bruker, 2007

) and Mercury (Macrae et al., 2008

); software used to prepare material for publication: SHELXTL.
---
Supplementary data and figures for this paper are available from the IUCr electronic archives (Reference: NK2124 ).
---
The authors thank Charles Campana of Bruker AXS, Inc. for his assistance with this structure, and Timothy J. Boyle (Sandia) for his help with the chemical scheme. This work was supported by the US DOE-NE/FCRD-SWG. Sandia is a multiprogram laboratory managed and operated by Sandia Corporation, a wholly owned subsidiary of Lockheed Martin Corporation, for the United States Department of Energy's National Nuclear Security Administration under contract DE-AC04-94 A L85000.
An, J. Y., Fiorella, R. P., Geib, S. J. & Rosi, N. L. (2009). J. Am. Chem. Soc. 131, 8401-8403.






Bruker (2007). SAINT, SMART and XSHELL. Bruker AXS Inc., Madison, Wisconsin, USA.
Dell'Amico, D. B., Calderazzo, F., Labella, L. & Marchetti, F. (2003). Inorg. Chim. Acta, 350, 661-664.


Flack, H. D. (1983). Acta Cryst. A39, 876-881.



Macrae, C. F., Bruno, I. J., Chisholm, J. A., Edgington, P. R., McCabe, P., Pidcock, E., Rodriguez-Monge, L., Taylor, R., van de Streek, J. & Wood, P. A. (2008). J. Appl. Cryst. 41, 466-470.





Sheldrick, G. M. (1996). SADABS. University of Göttingen, Germany.
Sheldrick, G. M. (2008). Acta Cryst. A64, 112-122.