Related literature
For general background to the biological activity of benzamide derivatives, see: Lee et al. (2009

). For bond-length data, see: Allen et al. (1987

).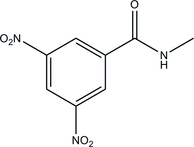 Experimental
Data collection: CAD-4 Software (Enraf-Nonius, 1985

); cell refinement: CAD-4 Software; data reduction: XCAD4 (Harms & Wocadlo, 1995

); program(s) used to solve structure: SHELXTL (Sheldrick, 2008

); program(s) used to refine structure: SHELXTL; molecular graphics: SHELXTL; software used to prepare material for publication: SHELXTL.
---
Supplementary data and figures for this paper are available from the IUCr electronic archives (Reference: XU5409 ).
---
This work was supported by the National Natural Science Foundation of China (30940094) and the Science Foundation for Excellent Youth Scholars of the Education Commission of Hunan Province, China (10B077).
Allen, F. H., Kennard, O., Watson, D. G., Brammer, L., Orpen, A. G. & Taylor, R. (1987). J. Chem. Soc. Perkin Trans. 2, pp. S1-19.
Enraf-Nonius (1985). CAD-4 Software. Enraf-Nonius, Delft, The Netherlands.
Harms, K. & Wocadlo, S. (1995). XCAD4. University of Marburg, Germany.
Lee, S., Song, K. H., Choe, J., Ju, J. & Jo, Y. (2009). J. Org. Chem. 74, 6358-6361.


North, A. C. T., Phillips, D. C. & Mathews, F. S. (1968). Acta Cryst. A24, 351-359.



Sheldrick, G. M. (2008). Acta Cryst. A64, 112-122.