---

Volume 68
Part 3
Page m318
March 2012
Received 12 January 2012
Accepted 13 February 2012
Online 24 February 2012
Key indicators
Single-crystal X-ray study
T = 293 K
Mean

(C-C) = 0.005 Å
R = 0.052
wR = 0.101
Data-to-parameter ratio = 14.9
Details

catena-Poly[[(1,10-phenanthroline)cobalt(II)]-di--azido]

In the crystal structure of the binuclear title complex, [Co(N3)2(C12H8N2)]n, each CoII cation is coordinated by two N atoms from one chelating 1,10-phenanthroline ligand and four azide ligands in a slightly distorted octahedral coordination. The two CoII cations of the binuclear complex are related by an inversion centre and are bridged by two symmetry-related azide ligands in both

1,1 and

1,3 modes. The

1,3 bridging mode gives rise to an infinite one-dimensional chain along the a axis, whereas the

1,1 bridging mode is responsible for the formation of the binuclear CoII complex.
Related literature
For general background to metal-azide complexes, see: Zhao et al. (2009

). For a closely related Ni-azide structure, see: Li et al. (2000

).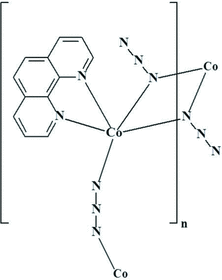 Experimental
Data collection: PROCESS-AUTO (Rigaku, 1998

); cell refinement: PROCESS-AUTO; data reduction: PROCESS-AUTO; program(s) used to solve structure: SHELXS97 (Sheldrick, 2008

); program(s) used to refine structure: SHELXL97 (Sheldrick, 2008

); molecular graphics: ORTEPIII (Burnett & Johnson, 1996

) and PLATON (Spek, 2009

); software used to prepare material for publication: SHELXTL (Sheldrick, 2008

).
---
Supplementary data and figures for this paper are available from the IUCr electronic archives (Reference: VN2030 ).
---
The authors acknowledge financial support from Tianjin Municipal Education Commission (grant No. 20100502).
Burnett, M. N. & Johnson, C. K. (1996). ORTEPIII. Report ORNL-6895. Oak Ridge National Laboratory, Tennessee, USA.
Higashi, T. (1995). ABSCOR. Rigaku Corporation, Tokyo, Japan.
Li, L.-C., Liao, D.-Z., Jiang, Z.-H. & Yan, S.-P. (2000). Polyhedron, 19 1575-1578.


Rigaku (1998). PROCESS-AUTO. Rigaku Americas Corporation, The Woodlands, Texas, USA.
Sheldrick, G. M. (2008). Acta Cryst. A64, 112-122.



Spek, A. L. (2009). Acta Cryst. D65, 148-155.




Zhao, J.-P., Hu, B.-W., Sanudo, E. C., Yang, Q., Zeng, Y.-F. & Bu, X.-H. (2009). Inorg. Chem. 48 2482-2489.