Related literature
For an earlier characterization of the title compound, see: Freeman et al. (1974

). For neurotoxic effects of Pb, see: Needleman (2004

); Bressler et al. (1999

); Godwin (2001

). For treatments of lead(II) poisoning, see: Sinicropi et al. (2010)

; Casas & Sordo (2006

). For graph-set notation, see: Bernstein et al. (1994

).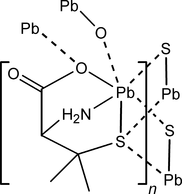 Experimental
Data collection: COLLECT (Hooft, 1998

); cell refinement: DENZO (Otwinowski & Minor, 1997

); data reduction: SCALEPACK (Otwinowski & Minor, 1997

); program(s) used to solve structure: SHELXS97 (Sheldrick, 2008

); program(s) used to refine structure: SHELXL97 (Sheldrick, 2008

); molecular graphics: ORTEP-3 for Windows (Farrugia, 1997

); software used to prepare material for publication: SHELXL97.
---
Supplementary data and figures for this paper are available from the IUCr electronic archives (Reference: HB6608 ).
---
This research was supported by the National Science and Engineering Research Council (NSERC) of Canada, the Canadian Foundation for Innovation (CFI) and the Province of Alberta (Department of Innovation and Science).
Bernstein, J., Etter, M. C. & Leiserowitz, L. (1994). Structure Correlation, edited by H. -B. Bürgi & J. D. Dunitz, Vol. 2., pp. 431-507. New York: VCH.
Blessing, R. H. (1997). J. Appl. Cryst. 30, 421-426.




Bressler, J., Kim, K.-A., Chakraborti, T. & Goldstein, G. (1999). Neurochem. Res. 24, 595-600.





Casas, J. S. & Sordo, J. (2006). Lead: Chemistry, Analytical Aspects, Environmental Impact and Health Effects, edited by J.S. Casas & J. Sordo, Amesterdam: Elsevier Science Technology.
Farrugia, L. J. (1997). J. Appl. Cryst. 30, 565.



Flack, H. D. (1983). Acta Cryst. A39, 876-881.



Freeman, H. C., Stevens, G. N. & Taylor, I. F. J. (1974). Chem. Soc. Chem. Commun. pp. 366-367.


Godwin, H. A. (2001). Curr. Opin. Chem. Biol. 5, 223-227.





Hooft, R. (1998). COLLECT. Nonius B V, Delft, The Netherlands.
Needleman, H. (2004). Annu. Rev. Med. 55, 209-222.





Otwinowski, Z. & Minor, W. (1997). Methods in Enzymology, Vol. 276, Macromolecular Crystallography, Part A, edited by C. W. Carter Jr. and R. M. Sweet, pp. 307-326. New York: Academic Press.
Sheldrick, G. M. (2008). Acta Cryst. A64, 112-122.



Sinicropi, M. S., Amantea, D., Caruso, A. & Saturnino, C. (2010). Arch. Toxicol. 84, 501-520.