---

Volume 68
Part 4
Pages m469-m470
April 2012
Received 30 September 2011
Accepted 6 March 2012
Online 24 March 2012
Key indicators
Single-crystal X-ray study
T = 296 K
Mean

(C-C) = 0.003 Å
R = 0.032
wR = 0.098
Data-to-parameter ratio = 20.7
Details

Bis(methacrylato-O)bis(2,4,6-trimethylpyridine-N)copper(II)

aMaterials Chemistry Laboratry, Department of Chemistry, GC University, Lahore 54000, Pakistan, and bDepartment of Chemistry, University of Aberdeen, Meston Walk, Aberdeen AB24 3UE, Scotland
Correspondence e-mail: iuklodhi@yahoo.com
In the monomeric title complex, [Cu(C4H5O2)2(C8H11N)2], the CuII atom lies on a centre of inversion. Its coordination by two substituted pyridine ligands and two carboxylate anions leads to a slightly distorted trans-CuN2O2 square-planar geometry. The dihedral angle between the mean planes of the pyridine (py) ring and the carboxylate group is 74.71 (7)°. The dihedral angles between the planar CuN2O2 core and the py ring and carboxylate plane are 67.72 (5) and 89.95 (5)°, respectively. Based on the refined C=C and C-C bond lengths, the terminal =CH2 and -CH3 groups of the carboxylate anion may be disordered, but the disorder could not be resolved in the present experiment. Several intramolecular C-H

O interactions occur. In the crystal, molecules are linked by weak C-H

O hydrogen bonds, generating chains propagating in [100].
Related literature
For the crystal structures of related monomeric complexes containing a trans-CuN2O2 core, see: Borel et al. (1981

); Heimer & Ahmed (1982

); Jedrzejas et al. (1994

).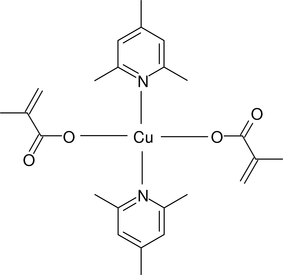 Experimental
Data collection: APEX2 (Bruker, 2007

); cell refinement: SAINT (Bruker, 2007

); data reduction: SAINT; program(s) used to solve structure: SHELXS97 (Sheldrick, 2008

); program(s) used to refine structure: SHELXL97 (Sheldrick, 2008

); molecular graphics: ORTEP-3 (Farrugia, 1997

); software used to prepare material for publication: SHELXL97.
---
Supplementary data and figures for this paper are available from the IUCr electronic archives (Reference: RN2095 ).
---
IUK thanks the Higher Education Commission of Pakistan for its financial support under the project to strengthen the Materials Chemistry Laboratory at GCUL.
Borel, M. M., Busnot, A., Busnot, F., Leclaire, A. & Bernard, M. A. (1981). Rev. Chem. Mineral. 18, 74-82.


Bruker (2007). APEX2, SAINT and SADABS. Bruker AXS Inc., Madison, Wisconsin, USA.
Farrugia, L. J. (1997). J. Appl. Cryst. 30, 565.



Heimer, N. E. & Ahmed, I. V. (1982). Inorg. Chim. Acta, 65, L65-L66.



Jedrzejas, M. J., Towns, R. L. R., Baker, R. J., Duraj, S. A. & Hepp, A. F. (1994). Acta Cryst. C50, 1442-1443.



Sheldrick, G. M. (2008). Acta Cryst. A64, 112-122.