---

Volume 68
Part 5
Page o1376
May 2012
Received 2 April 2012
Accepted 3 April 2012
Online 13 April 2012
Key indicators
Single-crystal X-ray study
T = 293 K
Mean

(C-C) = 0.002 Å
R = 0.039
wR = 0.107
Data-to-parameter ratio = 11.5
Details

Bis[(diaminomethylidene)azanium] 5-(1-oxido-1H-1,2,3,4-tetrazol-5-yl)-1H-1,2,3,4-tetrazol-1-olate

aShanghai Institute of Materia Medica, Chinese Academy of Sciences, Shanghai 201203, People's Republic of China,bJining Teachers College, Department of Chemistry, Wulanchabu 012000, Inner Mongolia, People's Republic of China,cDepartment of Chemistry, University of Malaya, 50603 Kuala Lumpur, Malaysia, and dChemistry Department, King Abdulaziz University, PO Box 80203 Jeddah, Saudi Arabia
Correspondence e-mail: seikweng@um.edu.my
The anion of the title salt, 2[C(NH2)3]+·C2N8O22-, lies on a center of inversion and its two five-membered rings are coplanar. The guanidinium cation forms N-H

O and N-H

N hydrogen bonds to the anion, generating an eight-membered ring. Other hydrogen bonds lead to the formation of a three-dimensional network.
Related literature
For the synthesis of 1,1'-dihydroxy-5,5'-bistetrazole, see: Tselinskii et al. (2001

).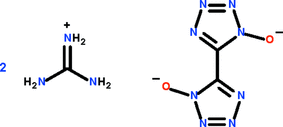 Experimental
Data collection: APEX2 (Bruker, 2009

); cell refinement: SAINT (Bruker, 2009

); data reduction: SAINT; program(s) used to solve structure: SHELXS97 (Sheldrick, 2008

); program(s) used to refine structure: SHELXL97 (Sheldrick, 2008

); molecular graphics: X-SEED (Barbour, 2001

); software used to prepare material for publication: publCIF (Westrip, 2010

).
---
Supplementary data and figures for this paper are available from the IUCr electronic archives (Reference: BT5870 ).
---
Acknowledgements
We acknowledge the Scientific Research Project of Higher Education of Inner Mongolia (grant No. NJ09204) and the Ministry of Higher Education of Malaysia (grant No. UM.C/HIR/MOHE/SC/12) for supporting this study.
Barbour, L. J. (2001). J. Supramol. Chem. 1, 189-191.



Bruker (2009). APEX2 and SAINT. Bruker AXS Inc., Madison, Wisconsin, USA.
Sheldrick, G. M. (2008). Acta Cryst. A64, 112-122.



Tselinskii, I. V., Mel'nikova, S. F. & Romanova, T. V. (2001). Russ. J. Org. Chem. (Engl. Transl.), 37, 455-461.
Westrip, S. P. (2010). J. Appl. Cryst. 43, 920-925.