Related literature
For the biological activity of Schiff bases, see: Khan et al. (2009

); Gerdemann et al. (2002

); Samadhiya & Halve (2001

). For a related structure, see: Liang et al. (2009

). For graph-set motifs, see: Bernstein et al. (1995

).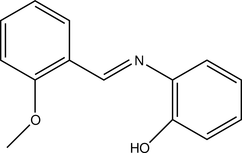 Experimental
Data collection: SMART (Bruker, 2000

); cell refinement: SAINT (Bruker, 2000

); data reduction: SAINT; program(s) used to solve structure: SHELXS97 (Sheldrick, 2008

); program(s) used to refine structure: SHELXL97 (Sheldrick, 2008

); molecular graphics: SHELXTL (Sheldrick, 2008

); software used to prepare material for publication: SHELXTL, PARST (Nardelli, 1995

) and PLATON (Spek, 2009

).
---
Supplementary data and figures for this paper are available from the IUCr electronic archives (Reference: PV2528 ).
---
MA express his gratitude to the Pakistan Council of Scientific and Industrial Research Laboratories Complex, Karachi, the Department of Chemistry, University of Karachi and the H·E.J. Research Institute of Chemistry, International Center for Chemical and Biological Sciences, University of Karachi, for providing financial support, research facilities and X-ray diffraction facilities, respectively.
Bernstein, J., Davis, R. E., Shimoni, L. & Chang, N.-L. (1995). Angew. Chem. Int. Ed. Engl. 34, 1555-1573.




Bruker (2000). SADABS, SMART and SAINT. Bruker AXS Inc., Madison, Wisconsin, USA.
Gerdemann, C., Eicken, C. & Krebs, B. (2002). Acc. Chem. Res. 35, 183-191.





Khan, K. M., Khan, M., Ali, M., Taha, M., Rasheed, S., Perveen, S. & Choudhary, M. I. (2009). Bioorg. Med. Chem. 17, 7795-7801.




Liang, Z.-P., Jian, L., Yang, C.-Y. & Tai, X.-S. (2009). J. Chem. Crystallogr. 39, 708-710.





Nardelli, M. (1995). J. Appl. Cryst. 28, 659.



Samadhiya, S. & Halve, A. (2001). Orient. J. Chem. 17, 119-122.


Sheldrick, G. M. (2008). Acta Cryst. A64, 112-122.



Spek, A. L. (2009). Acta Cryst. D65, 148-155.