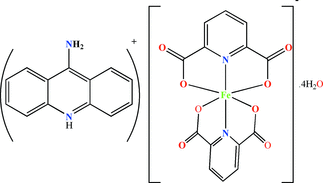 Acta Cryst. (2012). E68, m761-m762
[ doi:10.1107/S1600536812020247 ]
9-Aminoacridinium bis(pyridine-2,6-dicarboxylato-3O2,N,O6)ferrate(III) tetrahydrate
M. Mirzaei, H. Eshtiagh-Hosseini, E. Eydizadeh, Z. Yousefi and K. Molcanov
---
Key indicators
Single-crystal X-ray study
T = 293 K
Mean (C-C) = 0.005 Å
R factor = 0.059
wR factor = 0.178
Data-to-parameter ratio = 13.8
checkCIF/PLATON results
No syntax errors found




---


Alert level A
DIFF019_ALERT_1_A  _diffrn_standards_number is missing
            Number of standards used in measurement.
DIFF020_ALERT_1_A  _diffrn_standards_interval_count and
            _diffrn_standards_interval_time are missing. Number of measurements
            between standards or time (min) between standards.
DIFF022_ALERT_1_A  _diffrn_standards_decay_% is missing
            Percentage decrease in standards intensity.


---


Alert level B
PLAT417_ALERT_2_B Short Inter D-H..H-D       H4A    ..  H12A    ..       2.08 Ang. 

| | |
| --- | --- |
| | Author Response: Using restraints, the distance has been increased to 2.08 A. Considering the size of hydrogen atoms, it should not present problems. Increasing it further (by more restraints) only creates more artifacts. |



---


Alert level C
PLAT042_ALERT_1_C Calc. and Reported MoietyFormula Strings  Differ          ?
PLAT094_ALERT_2_C Ratio of Maximum / Minimum Residual Density ....       2.57      

| | |
| --- | --- |
| | Author Response: CuKa radiation was used and the central metal ion is iron, which causes strong absorption. Therefore, relatively large residual density maxima (0.8 eA-3) are not surprising. Regretfully, they can not be avoided and they are quite meaningless. |

PLAT911_ALERT_3_C Missing # FCF Refl Between THmin & STh/L=  0.600         10      
PLAT912_ALERT_4_C Missing # of FCF Reflections Above STh/L=  0.600         65      
PLAT913_ALERT_3_C Missing # of Very Strong Reflections in FCF ....          2      


---


Alert level G
PLAT002_ALERT_2_G Number of Distance or Angle Restraints on AtSite         13      
PLAT005_ALERT_5_G No _iucr_refine_instructions_details in CIF ....          ?
PLAT007_ALERT_5_G Note: Number of Unrefined D-H Atoms ............          3      
PLAT072_ALERT_2_G SHELXL First  Parameter in WGHT Unusually Large.       0.11      
PLAT128_ALERT_4_G Alternate Setting of Space-group P21/c   .......      P21/n      
PLAT199_ALERT_1_G Check the Reported _cell_measurement_temperature        293 K    
PLAT200_ALERT_1_G Check the Reported   _diffrn_ambient_temperature        293 K    
PLAT860_ALERT_3_G Note: Number of Least-Squares Restraints .......         14      


---


   3 ALERT level A = Most likely a serious problem - resolve or explain
   1 ALERT level B = A potentially serious problem, consider carefully
   5 ALERT level C = Check. Ensure it is not caused by an omission or oversight
   8 ALERT level G = General information/check it is not something unexpected

   6 ALERT type 1 CIF construction/syntax error, inconsistent or missing data
   4 ALERT type 2 Indicator that the structure model may be wrong or deficient
   3 ALERT type 3 Indicator that the structure quality may be low
   2 ALERT type 4 Improvement, methodology, query or suggestion
   2 ALERT type 5 Informative message, check


---



---
Copyright © International Union of Crystallography
IUCr Webmaster