---

Volume 68
Part 6
Page o1617
June 2012
Received 20 April 2012
Accepted 27 April 2012
Online 5 May 2012
Key indicators
Single-crystal X-ray study
T = 293 K
Mean

(C-C) = 0.002 Å
R = 0.045
wR = 0.132
Data-to-parameter ratio = 20.7
Details

Methyl (E)-2-({2-[(E)-(hydroxyimino)methyl]phenoxy}methyl)-3-(4-methylphenyl)acrylate

aDepartment of Physics, S.M.K. Fomra Institute of Technology, Thaiyur, Chennai 603 103, India,bDepartment of Organic Chemistry, University of Madras, Guindy Campus, Chennai 600 025, India, and cDepartment of Physics, Presidency College (Autonomous), Chennai 600 005, India
Correspondence e-mail: a_sp59@yahoo.in
In the title compound, C19H19NO4, the dihedral angle between the mean planes through the benzene rings is 82.18 (7)°. The C=N double bond is trans-configured. The molecules are linked into centrosymmetric dimers via pairs of O-H

N hydrogen bonds with the motif R22(6). The crystal packing also features C-H

O interactions. The methyl group attached to one of the aromatic rings is disordered over two almost equally occupied positions [occpancy ratio = 0.51 (4):0.49 (4)].
Related literature
For information on oximes, see: Chaudhuri (2003

). For a related structure, see: SakthiMurugesan et al. (2011

).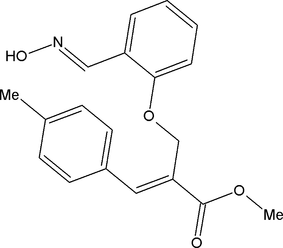 Experimental
Data collection: APEX2 (Bruker, 2004

); cell refinement: SAINT (Bruker, 2004

); data reduction: SAINT; program(s) used to solve structure: SHELXS97 (Sheldrick, 2008

); program(s) used to refine structure: SHELXL97 (Sheldrick, 2008

); molecular graphics: PLATON (Spek, 2009

); software used to prepare material for publication: SHELXL97 and PLATON.
---
Supplementary data and figures for this paper are available from the IUCr electronic archives (Reference: BT5884 ).
---
Acknowledgements
The authors thank Dr Babu Varghese, SAIF, IIT, Chennai, India for the data collection.
Bruker (2004). APEX2 and SAINT. Bruker AXS Inc., Madison Wisconsin, USA.
Chaudhuri, P. (2003). Coord. Chem. Rev. 243, 143-168.




SakthiMurugesan, K., Govindan, E., Srinivasan, J., Bakthadoss, M. & SubbiahPandi, A. (2011). Acta Cryst. E67, o2754.




Sheldrick, G. M. (1996). SADABS. University of Göttingen, Germany.
Sheldrick, G. M. (2008). Acta Cryst. A64, 112-122.



Spek, A. L. (2009). Acta Cryst. D65, 148-155.