---

Volume 68
Part 6
Pages m733-m734
June 2012
Received 20 April 2012
Accepted 27 April 2012
Online 5 May 2012
Key indicators
Single-crystal X-ray study
T = 170 K
Mean

(C-C) = 0.008 Å
R = 0.054
wR = 0.166
Data-to-parameter ratio = 12.0
Details

A triclinic polymorph of poly[[bis[-1,2-bis(pyridin-4-yl)ethene-2N:N']bis(thiocyanato-N)cobalt(II)] 1,2-bis(pyridin-4-yl)ethene monosolvate]

In the crystal structure of the title compound, [Co(NCS)2(C12H10N2)2]·C12H10N2, the CoII cations are octahedrally coordinated by two terminally N-bonded thiocyanate anions and four 1,2-bis(pyridin-4-yl)ethene (bpe) ligands. The asymmetric unit consists of three crystallographically independent CoII cations, six thiocyanate anions and six coordinating bpe ligands in general positions. Additionally, three non-coordinating bpe ligands are present in the asymmetric unit with two of them located on a center of inversion. The CoII cations are connected by the bpe ligands into layers parallel to the bc plane. The crystal investigated was non-merohedrically twinned, with a fractional contribution of 0.261 (2) for the minor domain.
Related literature
For background to this work see: Boeckmann & Näther (2010

), Wriedt et al. (2009

). For the monoclinic polymorph of the title compound, see: Wöhlert et al. (2011

).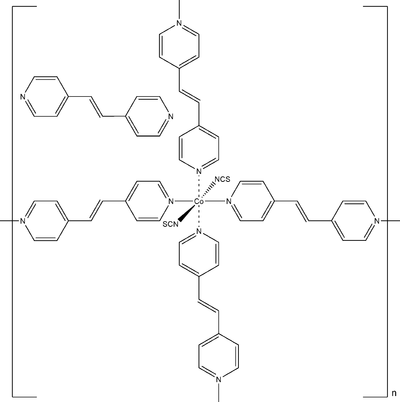 Experimental
Data collection
Stoe IPDS-1 diffractometer

15899 measured reflections

15899 independent reflections

11067 reflections with I > 2(I)

max = 24.1°
Data collection: X-AREA (Stoe & Cie, 2008

); cell refinement: X-AREA; data reduction: X-RED32 (Stoe & Cie, 2008

); program(s) used to solve structure: SHELXS97 (Sheldrick, 2008

); program(s) used to refine structure: SHELXL97 (Sheldrick, 2008

); molecular graphics: XP (Sheldrick, 2008

) and DIAMOND (Brandenburg, 2011

); software used to prepare material for publication: CIFTAB (Sheldrick, 2008

).
---
Supplementary data and figures for this paper are available from the IUCr electronic archives (Reference: BT5886 ).
---
Acknowledgements
We gratefully acknowledge financial support by the DFG (project No. NA 720/3-1) and the State of Schleswig-Holstein. We thank Professor Dr Bensch for access to his experimental facility.
Boeckmann, J. & Näther, C. (2010). Dalton Trans. 39, 1119-1126.



Brandenburg, K. (2011). DIAMOND. Crystal Impact GbR, Bonn, Germany.
Sheldrick, G. M. (2008). Acta Cryst. A64, 112-122.



Stoe & Cie (2008). X-AREA and X-RED32. Stoe & Cie, Darmstadt, Germany.
Wöhlert, S., Boeckmann, J., Wriedt, M. & Näther, C. (2011). Angew. Chem. Int. Ed., 50, 6920-6923.
Wriedt, M., Jess, I. & Näther, C. (2009). Eur. J. Inorg. Chem. pp. 1406-1413.