---

Volume 68
Part 6
Page o1635
June 2012
Received 26 April 2012
Accepted 30 April 2012
Online 5 May 2012
Key indicators
Single-crystal X-ray study
T = 100 K
Mean

(C-C) = 0.003 Å
Disorder in solvent or counterion
R = 0.046
wR = 0.098
Data-to-parameter ratio = 18.1
Details

3,3'-[1,2-Phenylenebis(methylene)]bis(1-ethyl-1H-benzimidazol-1-ium) bis(hexaflourophosphate)

aSchool of Chemical Sciences, Universiti Sains Malaysia, 11800 USM, Penang, Malaysia, and bX-ray Crystallography Unit, School of Physics, Universiti Sains Malaysia, 11800 USM, Penang, Malaysia
Correspondence e-mail: hkfun@usm.my
In the title compound, C26H28N42+·2PF6-, the complete cation is generated by a crystallographic twofold axis. The benzimidazole ring is almost planar (r.m.s. deviation = 0.0207 Å) and makes dihedral angles of 50.12 (2)° with its symmetry-related component and 65.81 (2)° with the central benzene ring. In the crystal, molecules are linked into a three-dimensional network by C-H

F interactions. A

-

interaction with a centroid-centroid distance of 3.530 (1) Å is observed. Four F atoms of the hexafluorophosphate anion are disordered over two sets of sites in a 0.889 (6):0.111 (6) ratio.
Related literature
For the biological applications of benzimidazoles, see: Narasimhan et al. (2012

). For a related structure, see: Haque et al. (2012

).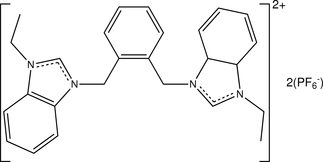 Experimental
Data collection: APEX2 (Bruker, 2009

); cell refinement: SAINT (Bruker, 2009

); data reduction: SAINT; program(s) used to solve structure: SHELXTL (Sheldrick, 2008

); program(s) used to refine structure: SHELXTL; molecular graphics: SHELXTL; software used to prepare material for publication: SHELXTL and PLATON (Spek, 2009

).
---
Supplementary data and figures for this paper are available from the IUCr electronic archives (Reference: HB6760 ).
---
Acknowledgements
RAH thanks Universiti Sains Malaysia (USM) for the Research University (RU) grants (1001/PKIMIA/811157 and 304/PKIMIA/6511123). MAI is grateful to (IPS) USM for financial support [fellowship: USM·IPS/JWT/1/19 (JLD 6)] and the research attachment fund [P-KM0018/10(R) - 308/AIPS/415401]. HKF thanks USM for the Research University Grant No. 1001/PFIZIK/811160.
Bruker (2009). APEX2, SAINT and SADABS. Bruker AXS Inc., Madison, Wisconsin, USA.
Haque, R. A., Iqbal, M. A., Fun, H.-K. & Arshad, S. (2012). Acta Cryst. E68, o924-o925.




Narasimhan, B., Sharma, D. & Kumar, P. (2012). Med. Chem. Res. 21, 269-283.




Sheldrick, G. M. (2008). Acta Cryst. A64, 112-122.



Spek, A. L. (2009). Acta Cryst. D65, 148-155.