---

Volume 68
Part 6
Page m743
June 2012
Received 1 May 2012
Accepted 2 May 2012
Online 5 May 2012
Key indicators
Single-crystal X-ray study
T = 100 K
Mean

(C-C) = 0.004 Å
R = 0.028
wR = 0.065
Data-to-parameter ratio = 18.2
Details

10-Hydroxybenzo[h]quinolin-1-ium tetrachlorido(pyridine-2-carboxylato-2N,O)stannate(IV) methanol monosolvate

aDepartment of Chemistry, General Campus, Shahid Beheshti University, Tehran 1983963113, Iran,bDepartment of Chemistry, University of Malaya, 50603 Kuala Lumpur, Malaysia, and cChemistry Department, Faculty of Science, King Abdulaziz University, PO Box 80203 Jeddah, Saudi Arabia
Correspondence e-mail: seikweng@um.edu.my
The reaction of 4-(dimethylamino)pyridine, picolinic acid and stannic chloride yields the title monosolvated salt, (C13H10NO)[SnCl4(C6H4NO2)]·CH3OH. The SnIV atom is N,O-chelated by the picolinate ion in a cis-SnNOCl4 octahedral geometry. The cation is linked to the methanol solvent molecule by an O-H

O hydrogen bond; the solvent molecule itself is a hydrogen-bond donor to the uncoordinating carboxylate O atom of the anion. The cations and anions are linked by weak N-H

Cl interactions, forming a chain running along the b axis.
Related literature
For a tetrachlorido(pyridine-2-carboxylato)stannate(IV), see: Najafi et al. (2012

).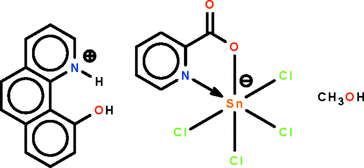 Experimental
Data collection: CrysAlis PRO (Agilent, 2012

); cell refinement: CrysAlis PRO; data reduction: CrysAlis PRO; program(s) used to solve structure: SHELXS97 (Sheldrick, 2008

); program(s) used to refine structure: SHELXL97 (Sheldrick, 2008

); molecular graphics: X-SEED (Barbour, 2001

); software used to prepare material for publication: publCIF (Westrip, 2010

).
---
Supplementary data and figures for this paper are available from the IUCr electronic archives (Reference: HG5222 ).
---
Acknowledgements
We thank Shahid Beheshti University and the Ministry of Higher Education of Malaysia (grant No. UM.C/HIR/MOHE/SC/12) for supporting this study.
---
Acta Cryst (2012). E68, m743 [ doi:10.1107/S1600536812019605 ]