---

Volume 68
Part 6
Pages m727-m728
June 2012
Received 19 April 2012
Accepted 27 April 2012
Online 5 May 2012
Key indicators
Single-crystal X-ray study
T = 298 K
Mean

(C-C) = 0.005 Å
R = 0.036
wR = 0.087
Data-to-parameter ratio = 13.4
Details

cyclo-Tetrakis{-N'-[(8-oxidoquinolin-7-yl)methylidene]isonicotinohydrazidato}tetrazinc tetrahydrate

aCollege of Chemistry, Chemical Engineering and Materials Science, Key Laboratory of Molecular and Nano Probes, Engineering Research Center of Pesticide and Medicine Intermediate Clean Production, Ministry of Education, Shandong Provincial Key Laboratory of Clean Production of Fine Chemicals, Shandong Normal University, Jinan 250014, People's Republic of China
Correspondence e-mail: yubindong@sdnu.edu.cn
In the title compound, [Zn4(C16H10N4O2)4]·4H2O, the N'-[(8-oxidoquinolin-7-yl)methylidene]isonicotinohydrazidate (L2-) ligand binds to the metal ions, forming stable five- and six-membered chelate rings, leaving the pyridyl groups free. The compound is a tetranuclear ZnII complex centered about a fourfold roto-inversion axis, with the ligand coordinating in the doubly deprotonated form. The ZnII atom has a distorted square-pyramidal geometry being coordinated by one N and two O-atom donors from the doubly deprotonated L2- ligand, and by one N atom and one O-atom donor from a symmetry-related L2- ligand. In the crystal, four symmetry-related lattice water molecules, centred about a fourfold roto-inversion axis, form a cyclic tetramer through O-H

O hydrogen bonds. These tetramers connect to the complex molecules through O-H

N hydrogen bonds, forming a chain propagating along [100]. Neighbouring molecules are linked by

-

interactions [centroid-centroid distance = 3.660 (2) Å] involving the quinolidine rings.
Related literature
For heterometallic coordination polymers and coordination compounds involving bridging N-donor ligands, see: Palacios et al. (2008

); Tao et al. (2002

); Dong et al. (2005

). For details of bond lengths in similar zinc(II) complexes, see: Kumar et al. (2006

); Woodward et al. (2006

).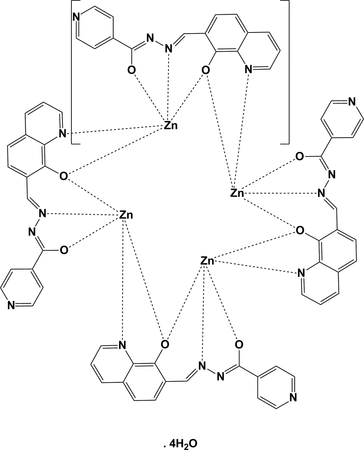 Experimental
Data collection: SMART (Bruker, 2003

); cell refinement: SAINT (Bruker, 2003

); data reduction: SAINT; program(s) used to solve structure: SHELXS97 (Sheldrick, 2008

); program(s) used to refine structure: SHELXL97 (Sheldrick, 2008

); molecular graphics: SHELXTL (Sheldrick, 2008

); software used to prepare material for publication: SHELXTL.
---
Supplementary data and figures for this paper are available from the IUCr electronic archives (Reference: SU2415 ).
---
This work was supported by the NSFC (Nos. 91027003 and 21072118), the 973 Program (No. 2012CB821705), the PCSIRT, Shangdong Natural Science Foundation (No. JQ200803) and Taishan Scholars' Construction Project Special Fund.
Bruker (2003). SAINT, SMART and SADABS. Bruker AXS Inc., Madison, Wisconsin, USA.
Dong, Y.-B., Zhang, H.-Q., Ma, J.-P., Huang, R.-Q. & Su, C.-Y. (2005). Cryst. Growth Des. 5, 1857-1866.




Kumar, D. K., Das, A. & Dastidar, P. C. (2006). Cryst. Growth Des. 6, 1903-1909.




Palacios, M. A., Wang, Z., Montes, V. A., Zyryanov, G. V. & Anzenbacher, P. Jr (2008). J. Am. Chem. Soc. 130, 10307-10314.





Sheldrick, G. M. (2008). Acta Cryst. A64, 112-122.



Tao, J., Zhang, Y., Tong, M.-L., Chen, X.-M., Yuen, T., Lin, C. L., Huang, X. & Li, J. (2002). Chem. Commun. pp. 1342-1343.



Woodward, J. D., Backov, R. V., Abboud, K. A. & Talham, D. R. (2006). Polyhedron, 25, 2605-2615.