---

Volume 68
Part 7
Page m911
July 2012
Received 9 June 2012
Accepted 9 June 2012
Online 16 June 2012
Key indicators
Single-crystal X-ray study
T = 100 K
Mean

(C-C) = 0.005 Å
R = 0.040
wR = 0.075
Data-to-parameter ratio = 16.8
Details

[2-(1-{2-[Azanidyl(ethylsulfanyl)methylidene-N]hydrazin-1-ylidene-N1}ethyl)phenolato-O](pyridine-N)nickel(II)

aDepartment of Chemistry, School of Sciences, Ferdowsi University of Mashhad, 91775-1436 Mashhad, Iran,bDepartment of Chemistry, University of Malaya, 50603 Kuala Lumpur, Malaysia, and cChemistry Department and Faculty of Science, King Abdulaziz University, PO Box 80203 Jeddah, Saudi Arabia
Correspondence e-mail: edward.tiekink@gmail.com
The NiII atom in the title complex, [Ni(C11H13N3OS)(C5H5N)], exists within a square-planar N3O donor set provided by N,N',O atoms of the dianionic tridentate ligand and a pyridine N atom. The maximum deviation from the ideal geometry is seen in the N-Ni-N five-membered chelate bite angle of 83.28 (12)°. The pyridine molecule forms a dihedral angle of 44.43 (6)° with the N3O donor set. Supramolecular stacks along the a axis mediated by alternating

-

interactions between the pyridine and five- [centroid-centroid distance = 3.4784 (16) Å] and six-membered [3.4633 (17) Å] chelate rings, feature in the crystal packing.
Related literature
For the complexing ability of S-alkyl esters of thiosemicarbazone derivatives, see: Ahmadi et al. (2012

). For medicinal applications of thiosemicarbazone, see: Dilworth & Hueting (2012

). For a related structure, see: Guveli & Ulkuseven (2011

).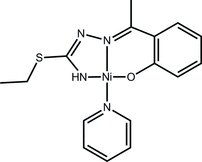 Experimental
Data collection: CrysAlis PRO (Agilent, 2012

); cell refinement: CrysAlis PRO; data reduction: CrysAlis PRO; program(s) used to solve structure: SHELXS97 (Sheldrick, 2008

); program(s) used to refine structure: SHELXL97 (Sheldrick, 2008

); molecular graphics: ORTEP-3 (Farrugia, 1997

) and DIAMOND (Brandenburg, 2006

); software used to prepare material for publication: publCIF (Westrip, 2010

).
---
Supplementary data and figures for this paper are available from the IUCr electronic archives (Reference: HB6842 ).
---
Acknowledgements
The authors are grateful to the Ferdowsi University of Mashhad for financial support, and thank the Ministry of Higher Education (Malaysia) for funding structural studies through the High-Impact Research scheme (UM·C/HIR/MOHE/SC/3).
Agilent (2012). CrysAlis PRO. Agilent Technologies, Yarnton, England.
Ahmadi, M., Mague, T. J., Akbari, A. & Takjoo, R. (2012). Polyhedron, doi:10.1016/j.poly.2012.05.004.
Brandenburg, K. (2006). DIAMOND. Crystal Impact GbR, Bonn, Germany.
Dilworth, J. R. & Hueting, R. (2012). Inorg. Chim. Acta, 389, 3-15.




Farrugia, L. J. (1997). J. Appl. Cryst. 30, 565.



Flack, H. D. (1983). Acta Cryst. A39, 876-881.



Guveli, S. & Ulkuseven, B. (2011). Polyhedron, 30, 1385-1388.
Sheldrick, G. M. (2008). Acta Cryst. A64, 112-122.



Westrip, S. P. (2010). J. Appl. Cryst. 43, 920-925.