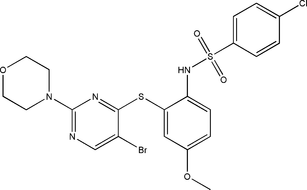 Acta Cryst. (2012). E68, o2800
[ doi:10.1107/S1600536812036689 ]
N-(2-{[5-Bromo-2-(morpholin-4-yl)pyrimidin-4-yl]sulfanyl}-4-methoxyphenyl)-4-chlorobenzenesulfonamide
M. Kumar, L. Mallesha, M. A. Sridhar, K. Kapoor, V. K. Gupta and R. Kant
---
Key indicators
Single-crystal X-ray study
T = 293 K
Mean (C-C) = 0.005 Å
R factor = 0.045
wR factor = 0.117
Data-to-parameter ratio = 15.9
checkCIF/PLATON results
No syntax errors found




---




---


Alert level B
PLAT910_ALERT_3_B Missing # of FCF Reflections Below Th(Min) .....         13      


---


Alert level C
PLAT242_ALERT_2_C Check Low       Ueq as Compared to Neighbors for         C4     
PLAT334_ALERT_2_C Small Average Benzene  C-C Dist. C1     -C6            1.37 Ang. 
PLAT918_ALERT_3_C Reflection(s) # with I(obs) much smaller I(calc)          1      


---


Alert level G
PLAT005_ALERT_5_G No _iucr_refine_instructions_details in CIF ....          ?
PLAT007_ALERT_5_G Note: Number of Unrefined D-H Atoms ............          1      
PLAT128_ALERT_4_G Alternate Setting of Space-group P21/c   .......      P21/n      
PLAT199_ALERT_1_G Check the Reported _cell_measurement_temperature        293 K    
PLAT200_ALERT_1_G Check the Reported   _diffrn_ambient_temperature        293 K    


---


   0 ALERT level A = Most likely a serious problem - resolve or explain
   1 ALERT level B = A potentially serious problem, consider carefully
   3 ALERT level C = Check. Ensure it is not caused by an omission or oversight
   5 ALERT level G = General information/check it is not something unexpected

   2 ALERT type 1 CIF construction/syntax error, inconsistent or missing data
   2 ALERT type 2 Indicator that the structure model may be wrong or deficient
   2 ALERT type 3 Indicator that the structure quality may be low
   1 ALERT type 4 Improvement, methodology, query or suggestion
   2 ALERT type 5 Informative message, check


---



checkCIF publication errors


---


Alert level A
PUBL024_ALERT_1_A The number of authors is greater than 5.
              Please specify the role of each of the co-authors
              for your paper.

| | |
| --- | --- |
| | Author Response: ... All the authors have equal contributions to this work MK -- Synthesis LM -- Crystallization KK, VG and RK -- Data collection and processing MAS -- Guide and Corresponding author |



---


   1 ALERT level A = Data missing that is essential or data in wrong format
   0 ALERT level G = General alerts. Data that may be required is missing

---
Copyright © International Union of Crystallography
IUCr Webmaster