Related literature
For general background to chloropyridinium derivatives, see: Brahadeeswaran et al. (2006

); Tomaru et al. (1991

). For N-H

O hydrogen bonds, see: Blessing (1986

); Brown (1976

).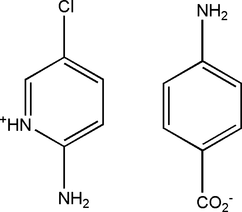 Experimental
Data collection: APEX2 (Bruker, 2008

); cell refinement: SAINT (Bruker, 2008

); data reduction: SAINT; program(s) used to solve structure: SHELXS97 (Sheldrick, 2008

); program(s) used to refine structure: SHELXL97 (Sheldrick, 2008

); molecular graphics: ORTEP-3 (Farrugia, 1997

); software used to prepare material for publication: SHELXL97 and PLATON (Spek, 2009

).
---
Supplementary data and figures for this paper are available from the IUCr electronic archives (Reference: BT6844 ).
---
The authors thank the TBI Consultancy, University of Madras, India, for the data collection.
Blessing, R. H. (1986). Acta Cryst. B42, 613-621.




Brahadeeswaran, S., Onduka, S., Takagi, M., Takahashi, Y., Adachi, H., Yoshimura, M., Mori, Y. & Sasaki, T. (2006). J. Cryst. Growth, 292, 441-444.




Brown, I. D. (1976). Acta Cryst. A32, 24-31.



Bruker (2008). APEX2, SAINT and SADABS. Bruker AXS Inc., Madison, Wisconsin, USA.
Farrugia, L. J. (1997). J. Appl. Cryst. 30, 565.



Sheldrick, G. M. (2008). Acta Cryst. A64, 112-122.



Spek, A. L. (2009). Acta Cryst. D65, 148-155.




Tomaru, S., Matsumoto, S., Kurihara, T., Suzuki, H., Oobara, N. & Kaino, T. (1991). Appl. Phys. Lett. 58, 2583-2585.