Related literature
For related structures, see: Lu et al. (2011

). For bond-length data, see: Allen et al. (1987

). For the catalytic properties of asymmetric Schiff bases, see: Caboni et al. (2012

). For the synthesis, see: Hennig & Mann (1988

).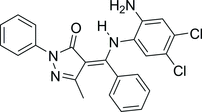 Experimental
Data collection: SMART (Bruker, 2001

); cell refinement: SAINT (Bruker, 2001

); data reduction: SAINT; program(s) used to solve structure: SHELXS97 (Sheldrick, 2008

); program(s) used to refine structure: SHELXL97 (Sheldrick, 2008

); molecular graphics: SHELXTL (Sheldrick, 2008

); software used to prepare material for publication: SHELXTL and local programs.
---
Supplementary data and figures for this paper are available from the IUCr electronic archives (Reference: FY2067 ).
---
The project was supported by the National Natural Science Foundation of China (program Nos. 21103135 and 21073139), the Natural Science Basic Research Plan in Shaanxi Province of China (program No. 2011JQ2011) and the Scientific Research Program Funded by Shaanxi Provincial Education Department (program No.12 J K0622).
Allen, F. H., Kennard, O., Watson, D. G., Brammer, L., Orpen, A. G. & Taylor, R. (1987). J. Chem. Soc., Perkin Trans. 2, pp. S1-S19.
Bruker (2001). SMART and SAINT. Bruker AXS Inc., Madison, Wisconsin, USA.
Caboni, L., Kinsella, G. K., Blanco, F., Fayne, D., Jagoe, W. N., Carr, M., Williams, D. C., Meegan, M. J. & Lloyd, D. G. (2012). J. Med. Chem. 55, 1635-1644.





Hennig, L. & Mann, G. (1988). Z. Chem. 28, 364-365.



Lu, R., Xia, H., Lü, X. & Zhao, S. (2011). Acta Cryst. E67, o2701.




Sheldrick, G. M. (2004). SADABS. University of Göttingen, Germany.
Sheldrick, G. M. (2008). Acta Cryst. A64, 112-122.