Related literature
For a related structure and background to hydrogen-bonding interactions, see: Jin et al. (2010

). For another related structure, see: Smith et al. (2011

).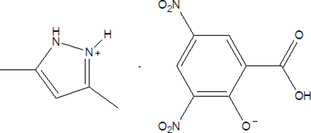 Experimental
Data collection: SMART (Bruker, 2002

); cell refinement: SAINT (Bruker, 2002

); data reduction: SAINT; program(s) used to solve structure: SHELXS97 (Sheldrick, 2008

); program(s) used to refine structure: SHELXL97 (Sheldrick, 2008

); molecular graphics: SHELXTL (Sheldrick, 2008

); software used to prepare material for publication: SHELXTL.
---
Supplementary data and figures for this paper are available from the IUCr electronic archives (Reference: HB6958 ).
---
We gratefully acknowledge the financial support of the Education Office Foundation of Zhejiang Province (project No. Y201017321) and the innovation project of Zhejiang A & F University.
Bruker (2002). SADABS, SMART and SAINT. Bruker AXS Inc., Madison, Wisconsin, USA.
Jin, S. W., Zhang, W. B., Liu, L., Gao, H. F., Wang, D. Q., Chen, R. P. & Xu, X. L. (2010). J. Mol. Struct. 975, 128-136.





Sheldrick, G. M. (2008). Acta Cryst. A64, 112-122.



Smith, G., Wermuth, U. D., Healy, P. C. & White, J. M. (2011). J. Chem. Crystallogr. 41, 1649-1662.