Related literature
For the biological and pharmacological activity of sulfoxides, see, for example: Melzig et al. (2009

); Huang et al. (2010

). For related structures, see: Yan (2010

); Kobayashi et al. (2003

).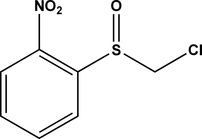 Experimental
Data collection: CrysAlis PRO (Agilent, 2011

); cell refinement: CrysAlis PRO; data reduction: CrysAlis PRO; program(s) used to solve structure: SIR2002 (Burla et al., 2005

); program(s) used to refine structure: SHELXL97 (Sheldrick, 2008

); molecular graphics: ORTEP-3 for Windows (Farrugia, 1997

) and DIAMOND (Brandenburg & Berndt, 2001

); software used to prepare material for publication: WinGX (Farrugia, 1999

).
---
Supplementary data and figures for this paper are available from the IUCr electronic archives (Reference: HB6974 ).
---
This work was supported by the Unité de Recherche de Chimie de l'Environnement et Moléculaire Structurale (CHEMS), Université Mentouri-Constantine, Algeria. Thanks are due to MESRS (Ministére de l'Enseignement Supérieur et de la Recherche Scientifique and ANDRU (l'Agence Nationale pour le Développement de la Recherche Universitaire) for financial support via the PNR programm.
Agilent (2011). CrysAlis PRO. Agilent Technologies Ltd, Yarnton, England.
Brandenburg, K. & Berndt, M. (2001). DIAMOND. Crystal Impact GbR, Bonn, Germany.
Burla, M. C., Caliandro, R., Camalli, M., Carrozzini, B., Cascarano, G. L., De Caro, L., Giacovazzo, C., Polidori, G. & Spagna, R. (2005). J. Appl. Cryst. 38, 381-388.





Farrugia, L. J. (1997). J. Appl. Cryst. 30, 565.



Farrugia, L. J. (1999). J. Appl. Cryst. 32, 837-838.




Huang, J.-Y., Li, S.-J. & Wang, Y.-G. (2010). J. Carbohydr. Chem. 29, 142-153.



Kobayashi, K., Sato, A., Sakamoto, S. & Yamaguchi, K. (2003). J. Am. Chem. Soc. 125, 3035-3045.






Melzig, L., Rauhut, C. B. & Knochel, P. (2009). Chem. Commun. pp. 3536-3538.


Sheldrick, G. M. (2008). Acta Cryst. A64, 112-122.



Yan, Z. (2010). Acta Cryst. E66, o3311.